Merkel Says History Won't Judge Kindly If EU Fails Refugees
by
German leader singles out Hungary, Slovakia for blocking plan

EU can't afford to isolate itself from region, Merkel says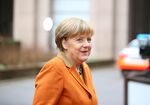 German Chancellor Angela Merkel said history will judge Europe harshly unless its countries share the burden of accepting refugees, taking aim at Hungary and Slovakia for refusing to resettle asylum seekers.
QuickTake Europe's Refugee Crisis
In some of her most direct criticism yet of fellow European Union members, Merkel said the EU will face scrutiny if it turns away from an embattled region where the Syrian civil war has displaced millions and spurred an influx of refugees into Europe. She contrasted the European response to countries such as Lebanon, Jordan and Turkey that have each taken in millions of Syrian refugees.
"Five hundred million Europeans today probably haven't taken in a million Syrians," Merkel said on a panel late Tuesday in Stuttgart, Germany, adding that the EU can't afford to isolate itself from the crisis. "I think that this won't go well for us historically. I'm very sure of that."
Merkel has been buffeted by criticism and sliding poll numbers at home over her open-border policy after about 1 million asylum seekers entered Germany last year. She faces the first major electoral test of her stance on Sunday, when three German states representing about 20 percent of the population hold regional ballots. Polls suggest across-the-board losses for Merkel's Christian Democratic Union and a surge in support for the Alternative for Germany party, or AfD, which campaigns against immigration.

Nationally, the drop in her party's support since last fall has halted. Backing for Merkel's CDU-led bloc was 35 percent for a fourth straight week in a Forsa poll for Stern magazine published Wednesday. The AfD climbed a percentage point to 10 percent, making it the fourth most-popular party in Germany, ahead of the anti-capitalist Left Party and the Free Democrats, the chancellor's second-term coalition partner.
Merkel was in Stuttgart less than a day after she steered the EU toward a deal with Turkey to staunch the flow of migrants. Under the agreement that still needs to be finalized at a summit of EU leaders on March 17-18, Europe would agree to resettle Syrian asylum seekers directly from Turkey. The chancellor signaled that reaching an agreement on redistribution may run up against the refusal of eastern European countries to accept any refugees at all.
As she spoke, Slovenia announced that it would start demanding valid passports and visas from midnight for all people seeking to cross into the passport-free Schengen area, as the western Balkan route from Greece to northern Europe was effectively closed to migrants. Serbia's Interior Ministry also said it would increase border controls with Bulgaria and the Republic of Macedonia, since Serbia can't become "a collection center for refugees."
"I have to tell you quite honestly, there will be a lot to talk about" the topic at next week's summit, Merkel said. "If some countries such as Hungary and Slovakia say 'zero -- zero; we have no obligation here; we're not responsible for sheltering; there's no civil war in front of our door; the Syrians have to look to their neighborhood with Lebanon, Jordan and Turkey.' That's a position that is not mine."
Before it's here, it's on the Bloomberg Terminal.
LEARN MORE