Merck KGaA Profit Beats Estimates on Life-Sciences Business
by and
Profit, sales in 2016 to rise by `low double-digit' percentage

Company to propose annual dividend of EU1.05 per share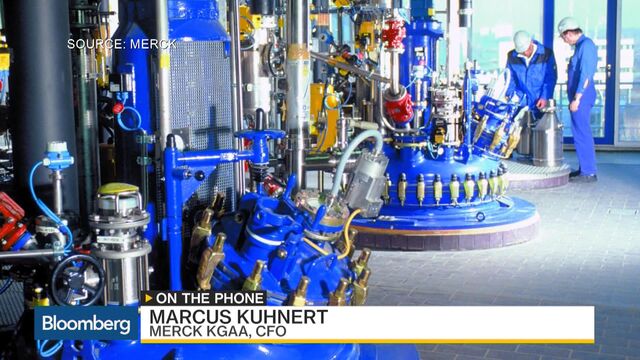 Merck KGaA posted fourth-quarter profit that beat analysts' estimates on sales of its pharmaceutical manufacturing equipment.
Earnings before interest, taxes, depreciation and amortization, and excluding some costs, rose 6.3 percent to 933.4 million euros ($1.03 billion), the Darmstadt, Germany-based company said in a statement Tuesday. That's higher than the 912.7 million-euro average of 7 analysts' estimates compiled by Bloomberg.
Chief Executive Officer Karl-Ludwig Kley has spent the last eight years restructuring the German conglomerate, which hasn't launched a new drug in over a decade. Merck KGaA diversified by buying pharmaceutical equipment maker Sigma-Aldrich Corp. for $17 billion last year and AZ Electronic Materials SA for $2.6 billion the year before. Earnings will increase by a "low-double-digit" percentage this year as Sigma-Aldrich is included in the drugmaker's books.
"Our positive investment thesis" is little changed after the results and outlook, Peter Verdult and Andrew Baum, analysts at Citigroup Inc., said in a note to investors. "We continue to like the risk-reward at Merck" as the company is undervalued, they said.
Shares Decline
The shares fell as much as 2.7 percent and traded down 0.3 percent at 79.46 euros at 9:17 a.m. Frankfurt trading. Germany's benchmark DAX index fell 1.3 percent. Merck's stock has fallen 12 percent this year, cutting the drugmaker's market value to 34.5 billion euros.
Sales in the fourth quarter gained 16 percent to 3.46 billion euros. The average analyst estimate was for 3.44 billion euros, the Bloomberg survey showed. Net income dropped 55 percent to 125.7 million euros in the quarter on expenses tied to the takeover of Sigma-Aldrich.
Merck KGaA will propose an annual dividend of 1.05 euros a share for the 2015 financial year, it said Tuesday. That compares to the previous year's 1-euro a share payout.
Merck KGaA's top-selling multiple sclerosis drug Rebif, which lost patent protection more than two years ago, has benefited from loyal patients. It is now losing ground to competition including Biogen Inc.'s Tecfidera, Novartis AG's Gilenya and Sanofi's Aubagio, as new patients choose pills over injections. Rebif sales declined 8 percent to 440 million euros in the fourth quarter.

"By acquiring Sigma-Aldrich, we successfully completed the portfolio realignment of recent years," Kley said in Tuesday's statement.
Kley struck a deal worth $2 billion with Pfizer Inc. to develop the experimental medicine avelumab, which harnesses the body's own defenses to fight cancer. Deputy CEO Stefan Oschmann, with several decades of experience in the pharmaceutical industry, succeeds Kley in April to revive Europe's oldest drug company.
Before it's here, it's on the Bloomberg Terminal.
LEARN MORE