Lumber Liquidators Falls as Tilson Shorts It for Second Time
by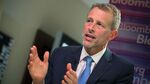 Lumber Liquidators Holdings Inc. tumbled 15 percent after hedge fund manager Whitney Tilson said that he's betting against the company for a second time.
Tilson, who was Lumber Liquidators' most vocal critic last year before announcing the end of his short position in December, said in a presentation that he's going after the company again. Concerns about the cancer risk of Lumber Liquidators' products, as well as legal and regulatory liabilities, are likely to cripple the stock, Tilson said.

There's now a 50 percent chance that Lumber Liquidators eventually files for bankruptcy, said Tilson, the head of Kase Capital Management. The remarks sent the shares down $2.07 to $11.77.
"Operating losses and cash burn will remain severely negative," Tilson said in the presentation. "It will likely be very difficult and expensive to settle the regulatory issues."
Lumber Liquidators said in a statement that "Tilson has elected to create confusion in the marketplace for the purpose of making money by lowering our stock price."
The retailer also made clear that it stopped selling the Chinese-made laminate at the center of the controversy in May 2015 while also strengthening its compliance and safety procedures.
'60 Minutes'
Tilson has played an integral role in knocking down Lumber Liquidators. He first went public with his short of the company in November 2013 and later pitched a story to "60 Minutes." The news program did its own investigation into the matter and aired a story on March 1 of last year.
In its report, "60 Minutes" accused the company of selling Chinese-made laminate with toxic levels of formaldehyde. It showed Chinese suppliers saying that flooring made for Lumber Liquidators wasn't compliant with California regulations even though it was labeled as such. Tilson was featured in the piece, along with a lawyer and an environmental advocate who were both backed by short sellers.
The fallout from the story hitting a mainstream audience was massive. The shares tumbled more than 70 percent, and sales have fallen every quarter since the show aired. The U.S. Consumer Product Safety Commission also opened an investigation. The company had to spend heavily on lawyers, consultants and sending out test kits to customers. Less than three months later, the chief financial officer and chief executive officer were gone.
Ending Short
Tilson then ended his short, saying that management was sloppy but probably unaware of the formaldehyde problems. He reiterated that sentiment in his latest presentation, though he said the continued fallout from lawsuits and regulatory probes would continue to damage the brand and hinder a recovery.
The company suffered a fresh blow in February, when U.S. Centers for Disease Control and Prevention said it had miscalculated the risk of cancer from the company's flooring -- it was three times higher than the agency's original estimate. Another flood of negative news coverage followed, including another story by "60 Minutes."
"This wave of publicity has had a hugely deleterious impact on Lumber Liquidators," Tilson said, "possibly even exceeding what happened in the aftermath of the initial '60 Minutes' story a year ago."
Before it's here, it's on the Bloomberg Terminal.
LEARN MORE