London Traders Suing Banks Must Settle for Pride Over Money
by
Ex-bankers win employment cases but judges block compensation

Citigroup stands by its decision to fire former employees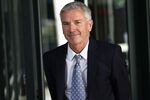 Fired trader Perry Stimpson says he didn't take Citigroup Inc. to court for the money. Even though he got a little.
His former employer must pay him 58,774 pounds ($83,700) for wrongful dismissal, a London court ruled last week. That makes Stimpson the second ex-banker to get some cash out of about a dozen who have sued in recent months after regulatory probes led to large-scale firings.
To the former foreign exchange trader, it was more about making his former bosses accountable for their behavior. His two-year legal struggle is returning a check that's less than half his previous annual salary.
"I'd have agonized over it forever if I hadn't gone through with it," Stimpson said as he leaned on a water cooler before the hearing that decided his winnings. "I couldn't just leave it be. I wanted to have my time to say my piece."
It's hard to find a winner in these London courtrooms.
Who's Won?
Banks have paid $10 billion in fines after investigations into foreign-exchange market manipulation. Panicked by regulatory probes, firms ignored employment law and were too quick to fire traders, according to three rulings published so far. That would usually mean sympathy and a big payday for the victims. So far, judges say, no one deserves it.
Stimpson saw court as a chance to confront former bosses and clear his name. Those views are shared by many who have filed suit to have charges of gross misconduct overturned. A successful dismissal plea can bring in as much as 78,300 pounds and reinstatement. A trader who proves racial or sexual discrimination, or claims she was harmed after blowing the whistle on improper conduct, can get millions.
Yet in all cases judges have instead scolded the former employees for foolishness, and in some cases denied compensation entirely. Three plaintiffs, including Stimpson, have made successful claims for unfair dismissal because banks failed to follow proper procedures during their firings. Former Lloyds Banking Group Plc trader Paul Carlier won but had his whistleblowing claim thrown out. His firing was unrelated to regulatory probes. Ian Drysdale from Royal Bank of Scotland Plc did as well, yet walked away with nothing.
Pursuing Victory
For Robert Hoodless, another former Citigroup trader whose case begins March 15, the maximum he can win for his claim for unfair dismissal won't cover his legal fees.
"I could just win on a technicality but that's all I want," Hoodless said by telephone. "I just want a victory to show that the way I was treated was outrageous. I was offered up as a scapegoat by a bank trying to prove to the regulators it was running a tight ship. It's never been about the money. I want to clear my name."
A Citigroup spokesman said the bank stands by its decision to fire the traders.
"Individual accountability is important to us, and for that reason we continue to defend these cases," the bank said in an e-mailed statement. "We expect our employees to adhere to the highest ethical standards and will not tolerate breaches of our code of conduct."
Winnings
One of Stimpson's goals was to get his job restored, a move that could have earned him a substantial severance package if Citigroup then fired him a second time. The judge refused, deeming his request a tactical move to maximize his winnings. Stimpson was fired for disclosing the identities of clients and information about their financial activities to traders at rival banks, executives from Citigroup claimed during his case.
He's found work as a vice president for Traders4Traders, a start-up offering online courses for people interested in learning about the foreign exchange business. He doesn't draw a salary and won't unless the company begins to make a net profit of 20,000 pounds a month, he said during his hearing.
Stimpson walks away better off than many of the claimants because he chose to forgo expensive attorneys. He represented himself, berating his former bosses from the chair usually reserved for lawyers and getting guidance from a sympathetic judge. Like other claimants, he faced a phalanx of legal firepower on the other side.
Legal Record?
In January, Citigroup sent 10 lawyers to the first day of the tribunal of Carly McWilliams, a Cambridge University-educated former foreign-exchange trader who was fired for allegedly sharing confidential information. That legal lineup was a record, according to the judge.
McWilliams was fired while on maternity leave and opted to sue for unfair dismissal. She'll receive her judgment in the coming weeks.
"I obviously want to win, but this is about so much more than money," McWilliams said Tuesday before attending Stimpson's hearing to show support. "It's a multi-billion-dollar bank that sends 10 lawyers to my hearing. I'm not going to give myself a hard time if I come second. I can't just roll over. I can't just take this."
Stimpson agrees. He's considering a move into property development with his partner because it's now unlikely he'll ever work in the upper echelons of finance again.
"In terms of compensation, it's not worth it," he said Tuesday as he waited for the elevator to take him to the exit. "Even if the judge had reinstated me, I'd have still taken a big haircut."
Before it's here, it's on the Bloomberg Terminal.
LEARN MORE