North Korea Can Put Nuclear Warhead on a Missile, Kim Says
by and
Kim's claims come as South Korea hold annual drills with U.S.

South Korea, U.S. say North Korea can't yet miniaturize weapon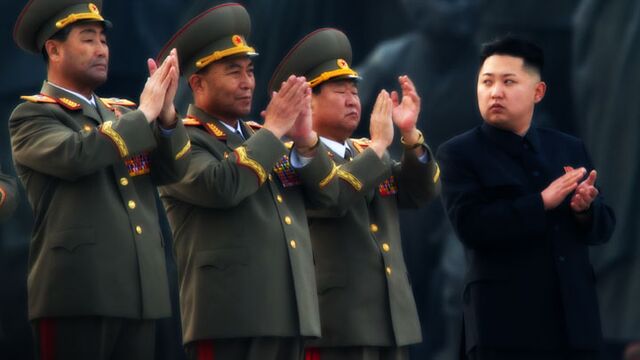 Kim Jong Un said North Korea has the ability to make nuclear warheads small enough to be fitted to its ballistic missiles, possibly increasing the threat to the U.S. and South Korea as the allies conduct their annual war games south of the heavily armed demilitarized zone.
The miniaturization of the warhead, if true -- South Korea and the U.S. challenged the claim -- would be a major leap for North Korea's nuclear ambitions marked by four nuclear tests since 2006, including one in January. North Korea said after its third test in 2013 that it had created nuclear missiles capable of reaching the U.S., but produced little proof, drawing skepticism from arms experts.

"The message is clear: I have nuclear bombs on missiles, so you better not even think about infringing on my territory during drills," said Kim Jin Moo, a North Korea analyst at the state-run Korea Institute for Defense Analyses. "It's a warning, but not a fresh claim."
South Korea's defense ministry asserted Wednesday that North Korea doesn't have the technology to miniaturize nuclear warheads and lacks the ability to launch a missile armed with one.
"Our position has not changed," Peter Cook, spokesman for the U.S. Defense Department, told reporters on Wednesday. "The United States has not seen North Korea demonstrate a capability to miniaturize a warhead. "
It's unlikely that a silver spherical device displayed by North Korea is a thermonuclear, or hydrogen, bomb, according to Karl Dewey, senior analyst for IHS Jane's.
"Thermonuclear weapons are multistage devices, and in modern weapons the need to place two separate stages together would result in a more oblong-like structure," Dewey wrote Wednesday. He said it's possible North Korea has produced a simple implosion weapon with hydrogen isotopes added to boost its explosion.
Kim made the claim of a miniaturized warhead at a meeting with his nuclear scientists and technicians, vowing to use the nuclear weapons if the U.S. attempted to attack his country, North Korea's official Korean Central News Agency said Wednesday.
The North Korean ruler ordered his troops last week to be ready to launch nuclear warheads at any moment as his military fired a volley of short-range projectiles into eastern waters. The threat came days after the United Nations Security Council unanimously passed a resolution targeting North Korea's banks, mineral exports and cargo vessels in punishment for the fourth nuclear test and a long-range rocket launch last month.
On Tuesday, South Korea announced a set of unilateral sanctions against North Korea, a day after it began its Key Resolve and Foal Eagle military drills with the U.S. -- exercises that the government in Pyongyang calls a rehearsal for war.
"It is very gratifying to see the nuclear warheads with the structure of mixed charge adequate for prompt thermo-nuclear reaction," KCNA quoted Kim as saying. "This can be called a true nuclear deterrent."
Before it's here, it's on the Bloomberg Terminal.
LEARN MORE