Jailed Libor Trader Hayes Denied Leave to Appeal Sentence
by and
Hayes serving 11-year sentence for conspiring to rig Libor

Hayes `disappointed' by ruling, vows to clear his name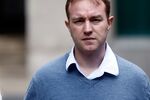 Former UBS Group AG trader Tom Hayes was denied permission to appeal his conviction for manipulating Libor to the U.K. Supreme Court.
"Tom Hayes' application for leave to appeal to the Supreme Court on a point of law of general public importance was refused," the Serious Fraud Office said Tuesday in a statement, declining to comment further. 
Hayes, 36, was convicted in August of conspiring to rig the London interbank offered rate and sentenced to 14 years in jail. The sentence was cut to 11 years after an earlier appeal. Socially awkward but highly gifted, Hayes became the public face of a scandal that brought the reputation of the finance industry to a low ebb. A dozen banks and brokerages have been fined about $9 billion for the activities and similar abuses by regulators.
"I am disappointed that the Court of Appeal has today refused my application," Hayes said in a statement. "I continue to maintain my innocence and I will continue to pursue all avenues available to me to clear my name."
Hayes's latest appeal comes after six of the former brokers he allegedly plotted with to rig the rate were found not guilty after a separate 14-week trial at London's Southwark Court.
"Realistically, this looks like the end of the road for Tom Hayes' appeal," said Christopher David, an attorney at WilmerHale, a firm that has represented other Libor traders. While "he may consider an application to the Criminal Cases Review Commission, on the face of it there appears to be little chance of success."
Before it's here, it's on the Bloomberg Terminal.
LEARN MORE