IBM Snips Potential Share Buyback Benefits for CEO Compensation
Jing Cao and Anders Melin
Board strips out effects of `unplanned' stock repurchases

IBM spent $32.1 billion to buy back shares since 2013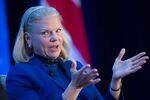 IBM's board is removing some of the potential benefits that share buybacks have on Chief Executive Officer Ginni Rometty's pay.
Starting this year, the board will strip out the effects of "unplanned" repurchases from operating earnings per share when it assesses its CEO's performance, International Business Machines Corp. said Monday in a filing. So, if IBM buys back more shares than originally budgeted, Rometty's pay won't get a boost from the additional per-share earnings from those repurchases.
"This is a good thing -- the intention of this is to avoid rewarding the CEO if earnings per share ends up being greater due to increased buyback activity," said Vahan Janjigian, chief investment officer at Greenwich Wealth Management, which holds IBM stock. 
That it's limited to unplanned repurchases, however, is an unusual move, he said.

Since 2013 -- Rometty's first full year as CEO -- IBM has spent $32.1 billion to buy back about 174.8 million shares, helping to prop up its lackluster stock. Analysts and investors have raised concerns that the move has hurt long-term investments such as acquisitions or research and development.
IBM declined to comment beyond the proxy statement. The board takes stock buybacks into account when setting per-share earnings targets for its executive pay program, according to the proxy filing.
Last year IBM spent the lowest amount on buybacks in more than a decade and repurchased about 30 million shares, less than half of what it did in 2014 and 2013. Repurchases improve financial results by reducing the number of shares trading in the market, effectively reducing the denominator in earnings per share.
The board has had a "longstanding intention" to exclude the impact of unplanned share buybacks on executive pay, according to the filing. The company's last repurchase program of that kind mentioned in filings came in 2007. The board noted that the accelerated program's impact on compensation was "marginal."
More than 45 percent of Rometty's $19.8 million reported compensation for 2015 was tied to IBM's operating earnings per share, which can be swayed by buybacks. IBM's shares have slid 34 percent since October 2012, the month when she took over.

"It shows some sensitivity to the share-buyback issue and the extent it affects compensation," said Erik Gordon, a professor at the University of Michigan's Ross School of Business. "Of course, it doesn't address the use of buybacks to support the stock price, which ultimately supports everybody keeping their job."
Like IBM, a number of the largest U.S. companies have added language in recent filings that address some of the effects buybacks have on executive pay. Still, it's rare that the benefit is stripped out in its entirety, if at all.
Starting this year, Qualcomm Inc. will tweak its executive pay program to exclude unanticipated share repurchases when calculating adjusted EPS, a metric that determines 60 percent of CEO Steven Mollenkopf's annual bonus, the chipmaker said in a January filing. Johnson & Johnson excludes share repurchases, as well as other one-time occurrences, from pay calculations for CEO Alex Gorsky if they impact operating EPS by more than 1 percent.
Other companies have made similar adjustments for years. When setting pay for its CEO John Brock, the board of Coca-Cola Enterprises Inc. has adjusted per-share earnings each year since at least 2011 to "limit the beneficial effects" buybacks would have on his performance. Home Depot Inc. tweaks some of its executive equity awards based on share repurchase activity and dividend increases above a certain level, a filing shows.
IBM's Chief Financial Officer Martin Schroeter has defended buybacks in the past, saying that picking between investing for growth and returning capital to shareholders is a "false choice." IBM can succeed while doing both, he said. He reaffirmed last month at the annual investor meeting that the company would continue to buy back shares this year.
Using earnings per share to determine executives' compensation can be "misleading," because the metric can be easily manipulated, Janjigian said. Companies instead should use a different measure of profit, such as net income or operating income, he said.
Before it's here, it's on the Bloomberg Terminal.
LEARN MORE