HSBC Going Solo in China Credit Cards Boosts Expansion Plan
by
Bank has ended card venture with Bocom, Asia head says

HSBC would be just one of three foreign card issuers in China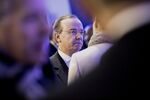 HSBC Holdings Plc winning approval to start a credit-card business in China's $1 trillion market offers Chief Executive Officer Stuart Gulliver added flexibility in his push into the nation's retail banking and wealth-management industries.
The approval from Chinese authorities came as HSBC ended a card venture with Bank of Communications Co., the bank's Asia-Pacific head Peter Wong said in a weekend interview, paving the way for the U.K. company to join Citigroup Inc. and Bank of East Asia Ltd. as the only foreign credit-card issuers on the mainland. Wong didn't say when HSBC won the nod from regulators, or provide any specifics on how the business will be rolled out.
Gulliver's Asian ambitions have been dealt a setback by crashing commodity prices, a slowing Chinese economy and a pretax loss in the fourth quarter. An independent card unit in China would improve HSBC's access to a fast-growing market that had 449 million cards on issue as of September and allow the bank to find new clients for its retail bank.
Getting approved for its own operation in China "is a meaningful step for HSBC as it gives the bank the autonomy to run the business," said Chen Xingyu, a Shanghai-based analyst at Phillip Securities Research. "Since the Pearl River Delta is HSBC's focus, having its own credit-card business can help the bank expand in the region."
Credit-card offerings can act as a springboard for drawing customers to other parts of the business such as private banking, Chen said. HSBC is getting a license for a planned brokerage venture with Shenzhen Qianhai Financial Holdings Co.
The Pearl River Delta, located to the north of Hong Kong and centered around the city of Guangzhou, is home to more than 40 million people. HSBC plans to add 4,000 jobs in that area as the bank shifts about $100 billion of investment to Asia in an effort to expand retail banking and wealth management. The bank will slow the pace of that hiring amid China's economic downturn, but HSBC won't alter its strategy, Gulliver said last month.
Good Relations
While the bank has ended its card venture with Bank of Communications, HSBC intends to maintain its roughly 19 percent stake in the Chinese lender, Asia-Pacific Chief Executive Officer Wong said Saturday in an interview on the sidelines of China's annual congress of lawmakers in Beijing.
"We still have a lot of other initiatives" with Bank of Communications, Wong said. "We have a very good relationship."
HSBC's card offerings would compete with its old venture partner, which had 40 million domestic cards as of June, while Industrial & Commercial Bank of China Ltd. had 108 million, according to their 2015 interim reports.
The London-based company has been working with Bank of Communications, China's fifth-largest lender by assets, since 2004 on businesses including credit cards. The Chinese bank announced the establishment of the credit-card venture -- with 2.5 billion yuan of capital -- in an October 2009 statement to Hong Kong's stock exchange.
HSBC shares in Hong Kong fell 0.3 percent on Tuesday to HK$49.50 as of 1:31 p.m. local time, compared with the benchmark Hang Seng Index's 0.8 percent loss. The bank's stock dropped 20 percent this year.
The number of Chinese credit cards in circulation at the end of the third quarter had nearly doubled to 449 million since 2010, central bank data show. That total is about the same as the combined populations of the U.S. and Japan. The outstanding balance on those cards was 6.7 trillion yuan, up 26 percent from a year earlier, according to the People's Bank of China data.

"There's still strong demand for credit cards in China's first-tier cities, but the business is getting saturated in some areas," said Chen at Phillip Securities. "That's why the potential in smaller cities is even bigger."
Before it's here, it's on the Bloomberg Terminal.
LEARN MORE