ECB's Knot Sees Carbon Bubble Having Limited Impact on Banks
by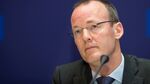 The impact of a carbon bubble on the Dutch financial sector is limited, European Central Bank Governing Council member Klaas Knot said.
Financial institutions' "investments in producers of fossil fuels are larger than earlier expected, but despite that, there doesn't seem to be a system risk," Knot, who is also the president of the Dutch central bank, told lawmakers in The Hague on Tuesday.
The United Nations set a goal in December to work toward capping global temperature increases since pre-industrial times to 2 degrees Celsius (3.6 degrees Fahrenheit) to rein in global warming. The agreement establishes a mechanism to contribute to the mitigation of greenhouse gas emissions and support sustainable development.
The Dutch central bank investigated the impact of a so-called carbon bubble at financial institutions as a consequence of this agreement. It defined a bubble as a sudden devaluation of the value of producers of fossil fuels and the chance of a devaluation of the exposures in those producers. Part of this discussion is about the reserves of these companies which may be stranded because the new climate policy doesn't allow these reserves to be drilled and they may remain unused.
Looking at broader exposures like carbon intensive producing companies like heavy industries, agriculture and blast furnaces, Knot sees potential risks. "But in that case the nature of the investments is less unambiguous. There will be some losers among them in this transition but there will also be winners, so there is a better spread of the risks."
Before it's here, it's on the Bloomberg Terminal.
LEARN MORE