ECB's Currency Challenge Underlined by Kuroda's Yen Whiplash
by
Central bank tipped to add to monetary stimulus on March 10

Weaker euro isn't foregone conclusion, yen's moves indicate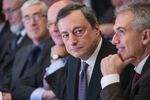 Haruhiko Kuroda's humbling in foreign-exchange markets shows what Mario Draghi is up against this Thursday: namely, that even the most forceful policy decisions can be overwhelmed by events.
When the Bank of Japan governor surprised investors by adopting negative interest rates on Jan. 29, he spurred only a brief drop in the yen. Then, demand for havens surged on concern a slowdown in China will stunt global growth and Kuroda's move itself added to the risk-off mood. The currency went on to post its best month since 2008.
Now Draghi, president of the European Central Bank, will walk the same tightrope, as analysts predict he's preparing to cut the euro zone's already negative deposit rate and expand the quantitative-easing program he first flagged a year ago.

Central bankers are quick to stress that currency weakness isn't a policy objective, though there's little doubt it provides welcome economic stimulus. In that respect, Draghi's move may come against a more benign backdrop than Kuroda's, after a rally in stocks and commodities the past month prompted hedge funds to add to bearish euro bets for the first time this year.
Timing Vital
"Timing is everything," said Jonathan Lewis, New York-based chief investment officer at Fiera Capital, where he helps oversee about $10 billion. "So many bad things were happening then that it was hard for Kuroda to cut through the noise, whereas Draghi could be more impactful because the world is coming out of its shock from January to February."
Lewis said he's holding onto positions that would benefit from a weaker euro, predicting the region's economic fundamentals and monetary policy will push down the currency. The ECB's deposit rate is already minus 0.3 percent and the median estimate of 58 economists surveyed by Bloomberg sees it at minus 0.4 percent after the central bank's policy meeting ends on Thursday.
Draghi will be aware of another precedent closer to home. After reaching an eight-month low on Dec. 3, the euro jumped 8 percent by Feb. 11 as the ECB introduced less currency-weakening stimulus in December than some investors predicted. Adding to the advance was a $5.9 trillion rout in global stocks in January that saw investors unwind investments in higher-yielding assets that involved borrowing and selling Europe's shared currency.
Less Volatile
The euro has since dropped 3.5 percent to $1.0975 as of 9:25 a.m. London time on Wednesday. It has fallen in line with JPMorgan Chase & Co. measure of global foreign-exchange price swings, which slipped 1.4 percentage points to 11.1 percent, encouraging dealers to re-initiate some of those volatility-sensitive carry trades.
Using cheap euros to buy emerging-market currencies has generated profits in 20 out of 22 cases in the past month, with returns of as much as 14 percent for Russia's ruble and 8 percent when investing in South Africa's rand, data compiled by Bloomberg show.
"Negative interest rates have the most impact when they force out risk-averse investors and when there is a better alternative abroad," said Sebastien Galy, a strategist in New York at Deutsche Bank AG, the second-biggest currency trader. "Emerging markets are showing some signs of stabilization but it would require an extended period of calm for flows out of the euro into selected parts of emerging markets to build up."
Negative Yields
With more than $2.5 trillion of euro-zone government debt yielding below zero, it's little surprise the prospect of selling the local currency to lock in higher yields elsewhere is appealing as price swings in global markets abate.
Hedge funds and other leveraged investors raised net bearish positions in the euro by 17,495 contracts in the week ending March 1, the first addition since Dec. 29, and boosting them from a 1 1/2-year low of 28,185 in February, data from the Commodity Futures Trading Commission in Washington show.
This is against a backdrop of longer-term flows out of the shared currency that may lower the exchange rate and make it easier for Draghi to meet his goals of boosting growth and inflation. Fixed-income outflows by local and overseas investors climbed to 316 billion euros ($347 billion) in the second half of last year, the most for a six-month period in data going back to the 2008 financial crisis.
Falling Prices
Draghi could certainly do with a weaker euro. Despite ever-increasing stimulus, the ECB has so far failed to make meaningful headway on inflation with consumer prices falling in February at an annual rate of 0.2 percent -- the most in a year.
That's why the policy chief will be keen to avoid a rerun of the Dec. 3 disappointment, when the euro climbed 3.1 percent, the most since 2009, according to Steven Barrow, head of Group-of-10 strategy in London at Standard Bank Group Ltd.
One way the ECB can "over-deliver" is to follow the BOJ's playbook and introduce a tiered deposit rate, with one level far below market expectations, he wrote in a March 4 note.
"This is not only because the euro soared but also because it wants everyone to see its actions as strong and decisive," he said. "This time the risk may be skewed more towards a collapse in euro-dollar rather than a surge."
Before it's here, it's on the Bloomberg Terminal.
LEARN MORE