Chipotle Shuts Massachusetts Location After Workers Get Sick
by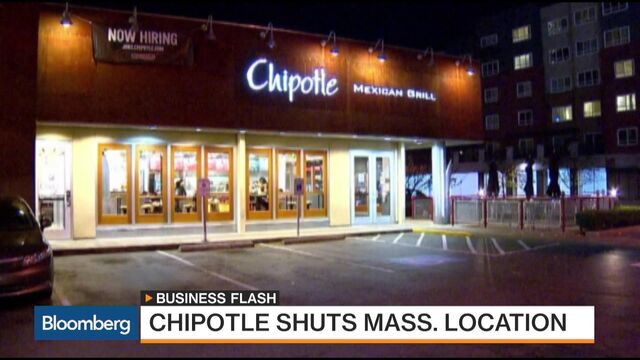 Chipotle Mexican Grill Inc., still trying to recover from a series of foodborne-illness outbreaks, temporarily shut a restaurant in Massachusetts after four employees got sick.
The location in the town of Billerica, outside Boston, was closed for a full cleaning on Tuesday and will reopen on Thursday, according to company spokesman Chris Arnold.

Chipotle has been reeling from a food-safety crisis since early November, when the Centers for Disease Control and Prevention said it was investigating an E. coli outbreak linked to the chain's restaurants. That brought attention to previous foodborne illnesses among the chain's customers. The concerns only grew after a norovirus outbreak sickened scores of college students in Boston in December, weighing on Chipotle's sales.
It's not known if the sick employees in Billerica had norovirus, and there are no reports of customers falling ill, Arnold said. The employees didn't work at the store while they were sick, he said.
"Any employees who reported feeling ill will be tested and held out of the restaurant until they fully recover," he said.
Chipotle shares were down 1.9 percent to $514.57 at 1:47 p.m. in New York on Wednesday, paring an earlier loss of as much as 6.1 percent. The stock had declined 20 percent in the 12 months through Tuesday.
The Massachusetts health department confirmed that the restaurant was closed voluntarily, and that there were no known ill customers. Arnold said inspectors found that the location was "nice, clean, and in great shape."
Before it's here, it's on the Bloomberg Terminal.
LEARN MORE