BAIC Said to Seek $460 Million, Plan Electric-Car Unit IPO
Bloomberg News
Le Holdings said to be among investors in financing round

BAIC said to seek Shanghai listing for electric-car division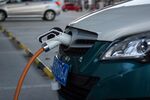 BAIC Group is seeking to raise about 3 billion yuan ($460 million) in a financing round for its electric-car business, with plans to sell shares in the unit on Shanghai's exchange for emerging companies, according to people familiar with the matter.
Beijing Electric Vehicle Co., which is 60 percent controlled by BAIC, has attracted investments from technology companies including Le Holdings (Beijing) Co., said the people, who asked not to be identified because the information is confidential. BJEV, as the unit is called, plans to use the funds from the initial public offering to cut debt, make investments and as working capital, according to the people.

China has made electric vehicles a strategic initiative as part of its push to lead in the automotive technology, curb pollution and cut dependence on imported oil. BAIC's financing plan follows BYD Co.'s filing last year to sell additional shares and raise funds for its new-energy vehicle business. Global automakers also plan to cash in on the rising demand, with Tesla Motors Inc. seeking a local partner to start production in China.
"There shouldn't be a lack of investor appetite to back China's electric-car industry," said Steve Man, a Hong Kong-based analyst covering the auto industry at Bloomberg Intelligence. "China is resolute in tackling the environmental calamity that it's facing."
Representatives for BAIC and Le Holdings declined to comment. BAIC Motor's shares fell 4.4 percent to HK$6.08 as of 11:52 a.m. while the benchmark Hang Seng Index slid 0.9 percent. Leshi Internet's stock has been halted from trading since December.
BJEV has three other founding shareholders besides BAIC, all of which are owned by the Beijing government. The automaker's electric vehicle sales may more than double to 55,000 units this year from 20,000 last year, and reach as many as 700,000 units annually by 2020, according to Chen Ping, chief engineer of Beijing Electric Vehicle Co., a majority-owned BAIC unit.
The company is developing its first plug-in hybrid model, which runs on a rechargeable battery backed up by a small internal combustion engine, Chen said in a January interview. It's working with China Petroleum & Chemical Corp., also known as Sinopec, to provide battery replacement for electric vehicles at its gas stations.
Le Holdings is teaming with Aston Martin Lagonda Ltd. to help bring its electric RapidE vehicle to market by 2018, providing the powertrain and battery pack. It also backs Faraday Future, the electric-vehicle startup planning to manufacture its first car in 2017 at a $1 billion factory near Las Vegas.
Sales of new-energy vehicles, which includes plug-in hybrids, surged 3.4 times to 331,092 units in 2015, outpacing the industry growth for passenger vehicles, according to data from the China Association of Automobile Manufacturers. 
Retail auto deliveries rose 6.3 percent to 3.72 million units in the first two months of this year, according to data released by the China Passenger Car Association on Tuesday.