U.S. Stocks, Commodities Gain as Euro Erases Drop Before ECB
By and
S&P 500 climbs on seventh anniversary of bull market run

Crude tops $38 after data shows gasoline inventories dropped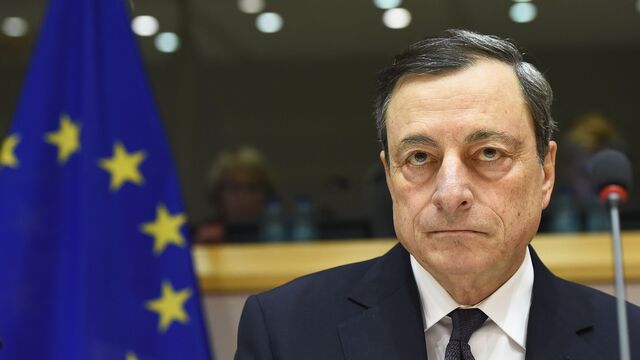 U.S. stocks and commodities gained, while the euro erased losses as investors speculated on the size and scope of any additional stimulus from the European Central Bank. Treasuries fell, while crude rallied.
Energy companies led gains, as the Standard & Poor's 500 Index climbed off its lows for the session to advance on the seventh anniversary of the bull market. Europe's benchmark equity index advanced for the first time in three days, while the euro wiped out declines to close little changed versus the U.S. dollar. The ECB is widely expected to boost stimulus when it meets Thursday, though the extent of the increase is debated. Oil rose to top $38 a barrel in New York, as currencies from resource-exporting countries strengthened.

Economists surveyed by Bloomberg forecast that the ECB will deliver a package of easing measures in its attempts to bolster price growth. That's offering support to markets after a slide in China's exports tempered a three-week rally that had restored almost $5 trillion to the value of equities worldwide. The International Monetary Fund said Tuesday that volatile financial markets and low commodity prices are heightening risks for the global economy, while DoubleLine Capital's Jeffrey Gundlach said betting on stocks is a "big losing proposition."
"There's a lot of focus on tomorrow with the ECB," said Michael Antonelli, an institutional equity sales trader and managing director at Robert W. Baird & Co. in Milwaukee. "The market is waiting for a new catalyst. Rallies are looking to be sold right now by algorithms and computer-driven quants and the move from the downside is probably in the late stages."
Stocks
The S&P 500 climbed 0.5 percent at 4 p.m. in New York, giving the index a gain as it starts the eighth year of a bull market run that's the third longest on record. It fell the most in two weeks on Tuesday amid a rout in energy shares.
The S&P 500 briefly erased a 0.6 percent gain as it slumped almost 10 points over the five minutes after 10:50 a.m. New York time. The two biggest trades of the day went through during that span in the futures market, with transactions totaling 1,611 e-minis contracts, data compiled by Bloomberg show.

"It's a relatively quiet day so it doesn't take much to move things around," Mark Kepner, an equity trader at Chatham, New Jersey-based Themis Trading LLC, said by phone. "People are waiting to hear more from central banks. We're at levels in the S&P where you get a little news like that and these algorithms get a story and go with it."
The seven-year run has restored $14 trillion to stock values, though investors are worried about shrinking earnings, China's economic slowdown and uncertainty over interest rates. While the S&P 500 has surged almost 200 percent since the low on March 9, 2009, it has only gained 0.5 percent in the past 18 months.
The index has about 2 percent upside and 20 percent downside, making for a lousy risk-reward trade-off, according to money manager Gundlach, who runs the $56 billion DoubleLine Total Return Bond Fund. The recent rebound was a "bear market rally," he said.
The Stoxx Europe 600 Index's advanced 0.5 percent with media and raw-material companies posting the biggest gains.
Asian markets showed less optimism. The MSCI Asia Pacific Index lost 0.6 percent as measures of materials and energy stocks sank.
Commodities
West Texas Intermediate for April delivery rose $1.79 to $38.29 a barrel in New York. Gasoline supplies fell by 4.53 million barrels last week, the Energy Information Administration said. Analysts surveyed by Bloomberg had expected a drop of 1.5 million. Four-week average demand for the fuel increased to the highest in six months.
Nickel rebounded 3.5 percent after tumbling on Tuesday, while copper gained 1.4 percent. Copper demand won't catch up with supply until 2017, according to a senior official at Freeport-McMoRan Inc., the largest publicly traded producer of the metal.
Gold fell 0.8 percent, extending Tuesday's retreat from a one-year high.
The Bloomberg Commodity Index's rebound comes after a 1.1 percent loss in the last session. It's dropped 21 percent in the past year.
Currencies
The euro fell 0.1 percent to $1.1004 in New York.
"There's talk of rates cuts, increasing the size of the asset-purchase program, and expanding the range of products that the ECB will buy," said Daniel Murray, the London-based head of research at EFG Asset Management. "Let's see tomorrow how good Draghi is at playing the market. He has built up expectations before and found them hard to meet."
The currencies of commodity-exporting nations rose as raw-material prices climbed. The Brazilian real, the South African rand and the Mexican peso led gains versus the dollar among 31 major peers, strengthening by at least 1.1 percent.
Emerging Markets
Emerging-market stocks rose 0.2 percent, after a slump yesterday, as concern grew China will act as a drag on the global economy.
Russia's ruble jumped 2.8 percent versus the dollar. Turkey's lira strengthened for a second day, rising 0.8 percent.
Bonds
U.S. and Japanese bonds fell as record-low yields in the Asian nation curbed demand for government debt. The move is a reversal from Tuesday, when Japan ignited a global debt rally as its benchmark 10-year yield slid to an unprecedented minus 0.1 percent.
Yields on 10-year Treasuries rose five basis points to 1.88 percent, while those on Japanese notes increased as much as nine basis points to minus 0.025 percent. German 10-year bunds halted a two-day advance, with the yield rising six basis points to 0.24 percent.
Warren Buffett's Berkshire Hathaway Inc. and Ferrari NV led companies offering euro-denominated bonds, as a revival in single-currency debt sales gathers steam.