Turkey Snarls EU Refugee-Crisis Response With Sudden Offer
By , , and
Davutoglu upends EU summit with new proposal to resolve crisis

`Difficult negotiations' lie ahead, Germany's Merkel says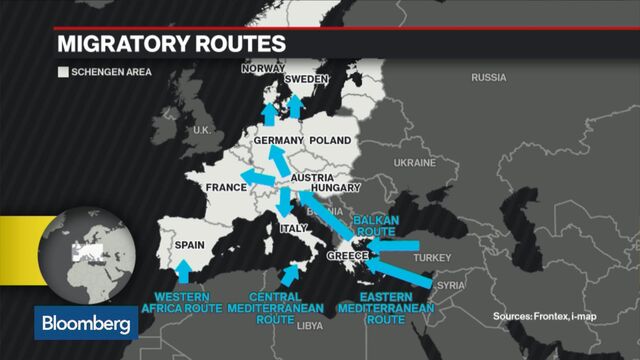 Turkey snarled the European Union's response to the refugee crisis, insisting on fresh concessions as the price for housing more asylum seekers on its soil instead of waving them through to the west.
The last-minute demands made just before an EU-Turkey summit in Brussels on Monday showed Turkey's leverage over the 28-nation bloc as it strives to dissuade thousands of Syrians, Iraqis, Afghans and others from making the desperate trek to Europe.

"There's been an intervention by the Turks again, quite recently, looking for a further list of demands, which will either mean that that's got to be dealt with or this meeting might be delayed," Irish Prime Minister Enda Kenny told reporters as he arrived.
EU leaders are staking the solution to the refugee crisis, the restoration of open borders within Europe and some of their own political fates on persuading Turkey to stop letting refugees cross the Aegean Sea to enter EU territory in Greece.
Prime Minister Ahmet Davutoglu spelled out the requests as Turkey's price for shutting off the Aegean migration route and for agreeing to take in one Syrian refugee for every Syrian who is relocated to Europe under plans that remain controversial inside the EU.
European Parliament President Martin Schulz said the Turkish side asked for an additional 3 billion euros ($3.3 billion) in financial aid by 2018, on top of a previously promised 3 billion euros that has only slowly started to trickle through. Back in Ankara, President Recep Tayyip Erdogan complained of the EU's stinginess and, noting that he sent his prime minister to the Brussels bargaining session, said: "I hope he comes back with that money."
Turkey also pushed the EU to decide in June, instead of the current October deadline, on granting Turkish citizens visa-free travel to Europe. Turkey would first need to make its passports more fraud-proof, pass anti-terror and anti-discrimination laws, and bow to EU demands on capping migration.
Visa liberalization is "perhaps too premature," Lithuanian President Dalia Grybauskaite said. "Turkey has done only half of its own homework."
The Turkish government denied that it issued fresh demands, saying it had instead made a new proposal aimed at resolving the entire problem, a spokesman told reporters in Brussels, declining to give specifics of the offer made.
The extra money and visa concessions were taken up in a pre-summit proposal by EU President Donald Tusk, according to a draft obtained by Bloomberg News. It wasn't clear whether they would pass muster with all 28 EU leaders. Hungarian Prime Minister Viktor Orban, for example, insisted that Ukraine win visa-free status first.

"Difficult negotiations" are in store, said German Chancellor Angela Merkel, who has seen her popularity ratings drop due to an open-door stance toward refugees. Merkel is counting on progress at the summit to stave off defeats for her party in three regional elections next Sunday.
European leaders had expected the summit to reaffirm an EU-Turkey roadmap from November which offers Turkey incentives including the financial aid, the prospect of visa-free travel and restoring momentum to Turkey's moribund bid for EU membership.
However, Davutoglu, the prime minister, upended the summit choreography. Negotiations are now set to continue into the evening.
"Turkey is ready to work with the EU," Davutoglu said before the summit. "Turkey is also ready to be an EU member."
Weekly Arrivals
Turkey has made a "good start" in halting the refugee stream, with weekly arrivals in Greece dropping to 8,002 in early February from 27,069 in mid-December, according to the European Commission. However, that number has since picked up, to 17,730 in late February.
Turkey's efforts to silence domestic critics, including the government's seizure of a leading newspaper last week, made the summit more uncomfortable for the EU with its dedication to democratic freedoms.
EU leaders were at pains to keep the refugee question apart from Turkey's treatment of dissenters. French President Francois Hollande said "cooperation with Turkey doesn't mean accepting everything from Turkey."
Speeding up the entry talks could be a two-edged sword for Turkey, since that would force the government to uphold European standards of civil liberties including freedom of the press and equality for women.
Greece Choked
Caught in the middle is Greece, the first EU stopping-off point on the route from Turkey and now choked with refugees in a humanitarian drama that comes on top of five years of non-stop economic crisis.
EU leaders will move ahead with food, medical support and housing for refugees trapped in Greece by decisions by countries further north led by Austria to stop letting them through.
"Obviously Greece needs help to handle the situation, which we're aware of, but the challenge today is to transfer the current momentum into having Turkey deliver what it already promised us to do," Danish Prime Minister Lars Lokke Rasmussen said.