Trudeau Says Trump May Dial Back Bombast If He Wins Nomination
By
Canadian prime minister treads carefully ahead of U.S. visit

'I'm not going to pick a fight,' he says of GOP front-runner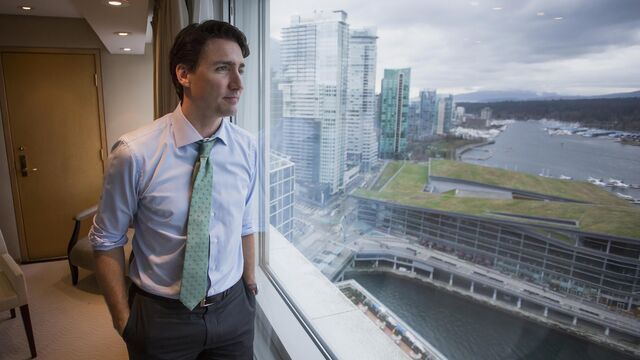 Canadian Prime Minister Justin Trudeau thinks Donald Trump could tone down his rhetoric if he wins the Republican nomination.
Trudeau took pains to avoid wading into the U.S. presidential race Monday during a Huffington Post town hall, but was asked repeatedly about Trump's candidacy. Many of the Republican front-runner's policies fly in the face of the Canadian leader's mantras of openness and positivity.
"I'm not going to pick a fight with Donald Trump right now. I'm not going to support him either, obviously," Trudeau said. "If I were American, I think I'd be asking questions right now about why is it that so many people are angry with your politics?"
Trump has labeled Mexican migrants as rapists or drug dealers and called for a wall to be built along on the southern border. He has also advocated for the expanded use of torture and for a ban on Muslims entering the U.S. Trudeau, conversely, campaigned on admitting more Syrian refugees to Canada, even welcoming some of them in person at the airport.
Pressed on whether Trump's positions represent a global threat, Trudeau said he suspected the Republican contender may not believe what he's saying.
"Let's see if the things that he needed to say to win -- secure -- the Republican nomination are the same things he chooses to say in order to win the presidency, if that's what happens," Trudeau said. He added that he has "faith in Americans and in their approach to their politics."
Trudeau heads to Washington this week to attend a state dinner with U.S. President Barack Obama. The pair expect to make progress on climate, trade and border issues.
While avoiding any direct judgment on the U.S. race, the prime minister made passing reference to a tongue-in-cheek campaign calling on disaffected Americans to move to an island along Canada's Atlantic coast should Trump become president.
"The fact is Cape Breton is lovely, all times of the year," Trudeau said. "If people do want to make choices that perhaps suit their lifestyles better, Canada's always welcoming."