Stubb Says No Return of July Crisis as Greek Talks Set to Resume
by , , and
Euro-area ministers seek to avoid rerun of euro breakup fears

Creditor mission chiefs could return to Athens on Tuesday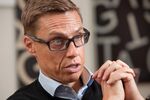 Greece and its creditors are moving toward a deal that would release more aid and quell lingering fears the nation could be forced to leave the euro area, Finnish Finance Minister Alexander Stubb said as bailout monitors prepare to return to Athens on Tuesday.
Mission chiefs from the International Monetary Fund, the European Commission and the European Central Bank will travel to Greece on Tuesday to discuss how the nation can close its fiscal gap, according to three officials with knowledge of the talks who asked not to be identified because the negotiations are private. That could pave the way to finishing Greece's bailout review, a prerequisite for aid disbursement and the start of debt relief talks.
"The last thing we need is to prolong this into a crisis which will come to a head in July" as happened last year, Stubb said in an interview Monday. He said the IMF has been taking "the harder line" on how much more work Greece needs to do to unlock funds, while the European Commission has been "a little bit more lenient."
Greece and its creditors are at loggerheads over how the country can reach a budget surplus before interest payments of 3.5 percent of gross domestic product in the medium term, as dictated by its bailout agreement. Any delay in resolving its bailout review threatens additional economic discord as a humanitarian crisis looms amid the worst refugee crisis since the Second World War.
"We will hear from the institutions where we stand, where there are possibilities and where there are no possibilities anymore, and then we will see how we get this working again," Eurogroup chief Jeroen Dijsselbloem, the Dutch Finance Minister, told reporters.
Before it's here, it's on the Bloomberg Terminal.
LEARN MORE