Sharapova's Positive Drug Test Just Cost Her Almost $300,000
by
Tennis rules say athletes caught doping forfeit prize money

The No. 7 woman lost in the Australian Open quarterfinals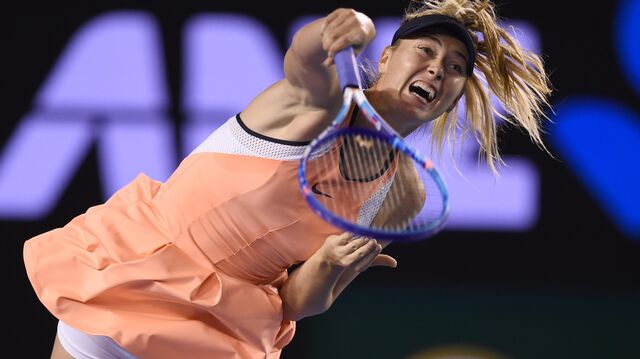 Maria Sharapova failed a drug test at the Australian Open, a result that could cost the tennis player a spot at the Rio 2016 Olympics and the $298,000 she won in January at the Australian Open.
One of the best female tennis players of her generation, Sharapova said at a news conference Monday that she had been taking meldonium for health reasons for a decade and had not noticed when it was banned by the World Anti-Doping Agency as of Jan. 1.
The drug, which is made by pharmaceutical company Grindeks, is used to treat heart conditions and brain circulation disorders in Latvia and Russia. (It is not approved for use in the U.S.) But the company also says on its website that meldonium "improves physical capacity and mental function ... in healthy people." A handful of athletes, including a Russian cyclist and six Georgian wrestlers, have tested positive for the drug this year.

The 28-year-old Sharapova, who has been battling injuries this season, won about $298,000 at the 2016 Australian Open, where she lost in the quarterfinals to Serena Williams. According to International Tennis Federation Rules, a positive drug test at the event "automatically leads to disqualification of the results obtained by the player ... including forfeiture of any medals, titles, ranking points, and prize money."
She has been provisionally suspended by the global tennis body effective March 12, a ban that could jeopardize her spot at the 2016 Rio Olympics. She won a silver medal for Russia at the 2012 Olympics in London.
When Sharapova announced the press conference on short notice, many speculated that she might announce her retirement. Ranked No. 7 by the Women's Tennis Association, Sharapova earned $29.7 million in 2015, making her the most highly paid female athlete in the world, according to Forbes (and No. 26 overall, just ahead of Arizona Cardinals quarterback Carson Palmer). But just 23 percent of her prize money came from tennis winnings -- the other $23 million was earned from endorsements from companies including Avon Products Inc., Nike Inc., Tag Heuer International SA, and Evian.
Paul Swangard, former head of the Warsaw Sports Marketing Center at the University of Oregon, said Sharapova's endorsements probably won't suffer. "She has too much goodwill and marketing appeal to face the same fate as athletes in sports like track and field and cycling," Swangard said. "No one cheered for her because she had the fastest serve."
Before it's here, it's on the Bloomberg Terminal.
LEARN MORE