Michael Bloomberg Says He Won't Run for President in 2016
By
Bloomberg LP founder ends speculation over independent bid

'If I entered the race, I could not win,' Bloomberg writes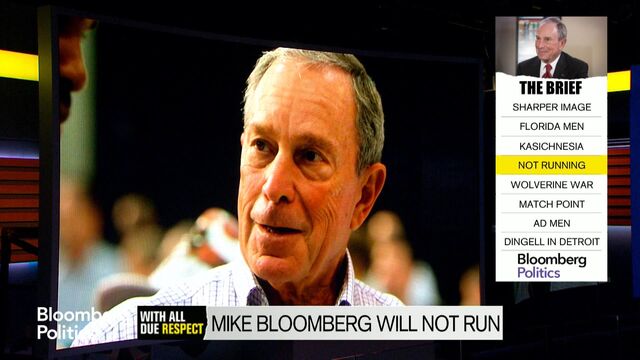 Michael Bloomberg, the billionaire former three-term mayor of New York, said he's decided against entering the 2016 presidential race, removing one of the remaining uncertainties in what already has been an unusual and unpredictable election year.
Bloomberg, 74, who had said the 2016 presidential campaign has been marred by appeals to extremism and was an insult to voters, was expected to spend a sizable amount of his own fortune if he entered the race. Bloomberg is the founder and majority owner of Bloomberg News parent Bloomberg LP.
Bloomberg's deliberations proved serious enough that he had vetted Michael G. Mullen, the retired admiral and former chairman of the Joint Chiefs of Staff, about joining him as his running mate on an independent ticket, said a Bloomberg adviser who asked that his name be withheld because he wasn't authorized to speak about the plan.
Bloomberg decided against running out of concern that his entry could benefit Republican front-runner Donald Trump by creating an unresolved election that would ultimately be decided by the Republican majority in the U.S. House of Representatives.
'Demagogic' Campaign
In an editorial under his byline on Bloomberg View, Bloomberg saved his harshest criticism for Trump, the billionaire television celebrity. "He has run the most divisive and demagogic presidential campaign I can remember, preying on people's prejudices and fears. Abraham Lincoln, the father of the Republican Party, appealed to our 'better angels.' Trump appeals to our worst impulses."
After consulting with dozens of longtime advisers and unaffiliated political analysts, Bloomberg paid for polls in 22 states, with a history of independent voting, to determine whether he could gain pluralities in enough of them to win.
"Over the last several months, many Americans have urged me to run for president as an independent, and some who don't like the current candidates have said it is my patriotic duty to do so. I appreciate their appeals, and I have given the question serious consideration. The deadline to answer it is now, because of ballot access requirements," Bloomberg wrote in the editorial.
"But when I look at the data, it's clear to me that if I entered the race, I could not win. I believe I could win a number of diverse states -- but not enough to win the 270 Electoral College votes necessary to win the presidency," Bloomberg wrote.
Bloomberg's advisers had said privately they felt they could get enough signatures on petitions to place him on ballots in all 50 states. Their rationale was grounded in a belief that Democrats and Republicans offered relatively inexperienced or ideologically driven candidates, such as Trump and Vermont Senator Bernie Sanders, a self-described socialist running in the Democratic primary.
Bloomberg had leased eight offices to collect signatures to get on the presidential ballots in Texas and North Carolina, the adviser said.
Clinton Delegates
His decision to stay out coincided with former Secretary of State Hillary Clinton's increasing tally of Democratic delegates won in primary election victories during the past two weeks. Bloomberg has known Clinton for decades, and worked closely with her between 2001 and 2009, while he served as mayor and she represented New York in the U.S. Senate.
Bloomberg faced the historic hurdle that no independent or third-party presidential candidate has won the presidency. Scholars and analysts said it wasn't clear that there was a realistic path for Bloomberg under the two-party system. An Associated Press poll Feb. 24 reported that 7 percent of registered voters said they definitely would vote for him, while 29 percent said they'd consider it. About six in 10 Democrats and Republicans ruled out voting for him, according to the poll.
"Sixty percent of the American public is in the middle and wants consensus-driven non-partisan politics," said Doug Schoen, a pollster with whom Bloomberg consulted before making his decision. He said the campaign's target audience would have been those who respond to a message that was "fiscally conservative and socially liberal."
Bloomberg would have brought to the race worldwide business and finance contacts and experience governing New York for 12 years after the Sept. 11 terror attacks. He built Bloomberg LP from a single computer into a global company with more than 15,500 employees and offices in 73 countries.
In the editorial, Bloomberg sounded themes he has discussed as speculation swirled about his possible candidacy. "Wage stagnation at home and our declining influence abroad have left Americans angry and frustrated. And yet Washington, D.C., offers nothing but gridlock and partisan finger-pointing," Bloomberg wrote.
"Worse, the current presidential candidates are offering scapegoats instead of solutions, and they are promising results that they can't possibly deliver. Rather than explaining how they will break the fever of partisanship that is crippling Washington, they are doubling down on dysfunction," he wrote. "Extremism is on the march, and unless we stop it, our problems at home and abroad will grow worse."
Divided Vote
Bloomberg also said his candidacy risked dividing the vote and throwing the election into Congress. "As the race stands now, with Republicans in charge of both Houses, there is a good chance that my candidacy could lead to the election of Donald Trump or Senator Ted Cruz. That is not a risk I can take in good conscience," Bloomberg wrote.
In order to win, Bloomberg would have had to get pluralities in enough states to capture 270 electoral votes. The Constitution also provides for the election to be thrown into the House of Representatives to decide if no candidate can secure those votes, though that method has has been used only twice, after the elections in 1800 and 1824. That body is controlled by a Republican majority.
"Unfortunately for him, the structural deck is stacked against him," said Norman Ornstein, a resident scholar at the American Enterprise Institute in Washington, in an interview last month after Bloomberg told the Financial Times he was considering a candidacy.
A review of the 50 states' voting patterns by political analyst Stuart Rothenberg published in Roll Call found 21 states with a total of 295 electoral votes with records of supporting independents and moderates -- including Alaska, North Carolina, Pennsylvania, New Mexico and Ohio -- that Bloomberg would have had to win in a three-way race to prevail.
There have been several prominent independent or third-party presidential candidates during the past century, most recently Ralph Nader in 2000, Ross Perot in 1992 and 1996, and John Anderson in 1980. Perot won 19 percent of the popular vote nationwide in 1992, but carried no states and won no electoral votes. The last such candidate to secure any electoral votes was segregationist George Wallace in 1968.
At a town hall event in Detroit televised by Fox News, Sanders offered muted reaction to Bloomberg's announcement.
"That's his decision," Sanders said. The Democrat said it's a "bad idea for American democracy that the only people who feel they can run for president" are wealthy.