Goldman-Backed `Nimble Gorilla' Targets Distressed Indian Assets
by
Billionaire Piramal's businesses on a rich pickings mission

`It's a good time to be in the market,' Piramal scion says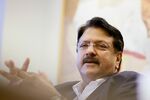 Indian billionaire Ajay Piramal is a man on a shopping mission. His firms are training their sights on distressed assets discarded by indebted businesses and banks struggling with bad loans.
His unlisted real estate unit, recently flush with cash from Warburg Pincus & Co. and Goldman Sachs Group Inc., is looking to buy land parcels from distressed developers, a month after Piramal Enterprises Ltd. announced a $893 million fund to buy soured loans. The group's investment arm is financing builders, who in turn can buy or co-develop projects with their troubled peers.

"My father says we should be like a nimble gorilla so you are able to move quickly, but at the same time you should have the capital to move," Anand Piramal, the group's executive director and scion who manages the real estate business, said in an interview in Mumbai. "It's a good time to be in the market."
Rich pickings may come through for the Piramal conglomerate as Indian developers' cash flow from operations fall short of their finance costs and lenders, desperate to recover dues, tighten screws demanding repayment. Saddled with distressed assets at a 14-year high, banks in Asia's third-largest economy have reported record losses amid pressure from regulators to clean up.

Piramal Realty will "look at good, prime parcels of land with a clean title" from distressed developers and is already in talks for as many as five deals, Piramal said. Disputes over land ownership are common in India, with cases dragging because of litigation for decades. 
Sellers are becoming "more amenable now" toward deals to overcome financial stress, which may continue for another year at least, Piramal said. "Capital is always a source of competitive advantage."
Goldman Sachs acquired a minority stake in the company for $150 million in August, about a month after Warburg Pincus bought into it, pumping in 18 billion rupees ($268 million). The company has about 10 million square feet under development in Mumbai and plans to invest 160 billion rupees in the next four years.
Big Boys
Builders are selling assets as they streamline operations driven by both strategy and distress, according to Shobhit Agarwal, managing director for capital markets at property broker Jones Lang LaSalle India. "Developers are turning to these big boys because they have both the money and the market trust to make sales plus command a premium," Agarwal said.
As smaller local builders struggle with byzantine approvals processes, high cost of financing, dwindling sales and drying cash flows, private equity firms are stepping in, lured by the prospect of acquiring property at deep discounts from down-and-out developers. 
KKR & Co. said last month that it will invest in two Mumbai projects by Sunteck Realty Ltd. The luxury developer last year said it was seeking private equity funds to buy distressed assets from rivals. Singapore sovereign wealth fund GIC Pte. in December invested 19.9 billion rupees in a joint-venture housing project in central Delhi with India's largest developer, DLF Ltd.
Piramal Fund Management, the family's real-estate funding vehicle, is distributing as much as 150 billion rupees to about 10 developers that are in a position to buy land or collaborate with struggling competitors.
Distress Fund
The listed Piramal Enterprises announced setting up a 60 billion-rupee Piramal India Resurgent Fund with the specific mandate of acquiring soured loans, according to a post-earnings presentation in February. Piramal declined to share any details about the new fund or the sectors it'll focus on.
Shares of Piramal Enterprises, which sells medicines to financial services, have risen 6.2 percent in the past year, compared with a 15 percent decline in the S&P BSE Sensex and the 6.4 percent drop in the 63-member S&P BSE Heathcare index.
The total cash flow from operations for six developers tracked by Moody's Investors Service, was at 3 billion rupees in the year ended March 2015, dwindling from 30 billion rupees in 2011, while total interest costs rose to 36 billion rupees from 29 billion rupees over this period, the data showed.
Lenders struggling to recover soured loans have weighed on credit in the country. Loans to commercial real estate segment grew 5.9 percent to 1.7 trillion rupees in 2015, less than half of the 14.8 percent growth the year earlier, data compiled by the Reserve Bank of India show.
RBI Governor Raghuram Rajan has set banks a March 2017 deadline to tidy their balance sheets while India's top court directed the RBI last month to share a list of the country's largest defaulters in the past five years.
"The squeeze is also coming in because of the banks," Piramal said. "If banks are able to push developers to accept more reasonable valuations, then groups like us can step in. I think it's happening."
Before it's here, it's on the Bloomberg Terminal.
LEARN MORE