From Gold to Glencore, Bears Take Beating in Commodity Rebound
by and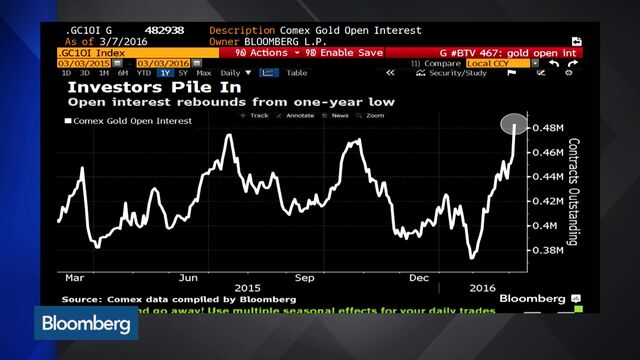 From oil to iron ore and Glencore Plc to Vale SA, being a commodity bear is pretty terrible right now.
Iron ore is the latest commodity to join the rally, soaring the most ever on Monday after Chinese policy makers signaled their willingness to buttress economic growth. Iron ore's 19 percent jump follows copper's move back above $5,000 a ton on Friday, while oil has hit a two-month high. Gold is at the highest in a year and platinum has crashed back above $1,000 an ounce.

"It's a very impressive bounce, the upside is likely being exacerbated by a short squeeze," said Marc Elliott, an analyst at Investec Plc. "Everyone has been surprised by extent of these moves and rapidity of them. Sentiment has changed, but it remains to be proven if this is a genuine fundamental recovery."
If the jump in commodities is dramatic, company stock moves are incredible. Anglo American Plc has doubled in value this year and is on an eight-day winning streak. From staring down the barrel of 200 pence a share in late January, today it's now above 600 pence.

Glencore Plc has gained 89 percent, while fellow copper miner Freeport-McMoRan Inc. is up 46 percent. Bears have found no respite with gold miners either. Fueled by a price recovery and collapsing South African rand, Sibanye Gold Ltd. has soared 140 percent. AngloGold Ashanti Ltd. is up 98 percent.
And now the iron-ore miners are in on the act. Fortescue Metals Group Ltd. added a cool 24 percent Monday, While Brazil's Vale is on a six-day winning streak that's seen its stock rally 58 percent.

Still, such rapid recoveries might prove a false dawn for the mining and energy industries with much needed supply cuts be choked off by soaring prices.
"A bounce like this will make a lot of commodity sources, that were previously uneconomic, economic again," said Elliott. "That will likely lead to an exacerbation of oversupply if demand doesn't rise commensurately."
Before it's here, it's on the Bloomberg Terminal.
LEARN MORE