European Bonds Resume Rally as Traders Have ECB in Their Sights
by and
French securities lead euro-area bonds higher as stocks fall

Economists are nearly unanimous on more ECB action: survey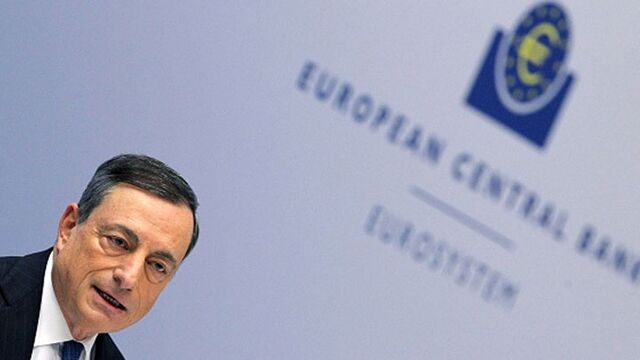 Euro-area government bonds rose as traders reignited bets that the European Central Bank will deliver new stimulus measures at a policy meeting this week to revive the region's economy.
French sovereign securities led the majority of region's bonds higher as European stocks halted a three-week run of gains. Bonds recovered some of their declines from Friday, when traders wavered on whether ECB policy makers will be able to deliver enough. Economists in a Bloomberg survey published Monday are almost unanimous in predicting action by the central bank. Nearly three-quarters of the economists surveyed expect the ECB to expand monthly bond purchases on Thursday, and all but one see the deposit rate being cut further below zero.
A cut to the deposit rate would also free up more bonds for the central bank to buy under its quantitative-easing program. About $900 billion of sovereign debt that meets maturity criteria is out of reach because the yields are too low.

"Poor risk appetite coupled with the expectation that the ECB will deliver this time is driving bonds up," said Arne Lohmann Rasmussen, head of fixed-income research at Danske Bank A/S in Copenhagen. "People are moving back into fixed income" amid falling global equity markets and concern that China won't meet its growth target, he said.
The yield on French bonds due in May 2026 fell four basis points, or 0.04 percentage point, to 0.63 percent as of 4:11 p.m. London time. The 0.5 percent security rose about 0.39, or 3.90 euros per 1,000-euro ($1,098) face amount, to 98.72. Benchmark German 10-year bund yields dropped three basis points to 0.21 percent, after climbing seven basis points on March 4.
The ECB said Monday it increased the pace of its purchases of German bonds under the QE program to 12.4 billion euros in February from 12.3 billion euros a month earlier.
China's leaders revised their growth target at an annual meeting of the legislature and said they are planning a record-high budget deficit. A 6.5 percent to 7 percent growth range was outlined for this year, with 6.5 percent pegged as the baseline through 2020. That would be less than last year's 6.9 percent rate, the slowest growth in a quarter century.
Portugal Slides
Portuguese bonds underperformed the rest of the region after their ratings outlook was revised on March 4. Fitch Ratings lowered Portugal's outlook to stable from positive. The nation is scheduled to auction as much as 1.25 billion euros of five- and 10-year bonds on March 9. Spanish bonds lagged behind Italy's after Standard & Poor's put Catalonia on negative credit watch on Friday, while Spain is embroiled in political deadlock.
Spain hired banks to sell debt due in October 2046 in the near future, subject to market conditions, according to a person familiar with the matter. The nation's 30-year bond yield climbed six basis points to 2.83 percent and the 10-year yield rose three basis points to 1.59 percent.
Portugal's 10-year bond yield increased four basis points to 3.14 percent, while similar-maturity Italian yields fell one basis point to 1.46 percent.
"Spain suffers from the ongoing, persistent political uncertainty with new elections looking increasingly likely," said David Schnautz, a London-based rates strategist at Commerzbank AG. "Italy can just ride the pre-ECB wave along the better credits, while individual stories -- supply and ratings -- leave Spain and Portugal on the back foot."
Before it's here, it's on the Bloomberg Terminal.
LEARN MORE