Draghi Aims ECB's Killer Blow in 11th Round Versus Deflation
by and
Survey shows most economists see QE boost at March 10 meeting

Investors have already priced in further cut to deposit rate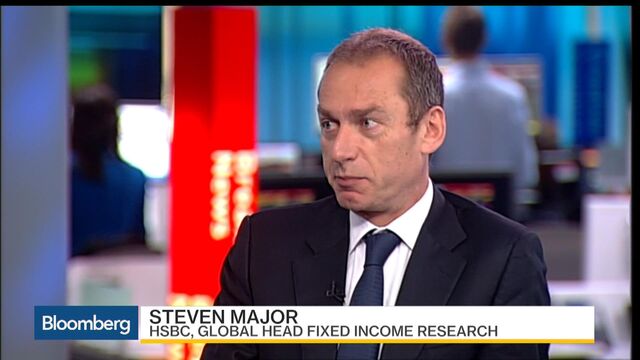 Mario Draghi is about to attempt his 11th round in the European Central Bank's epic fight against the threat of deflation.
The ECB president and his colleagues have unleashed significant stimulus to reignite price growth in the euro zone at 10 of the 47 monetary-policy meetings since he took the helm, only to see the region slapped as recently as last week with a negative inflation rate. For this week's decision, economists in a Bloomberg survey are nearly unanimous in predicting action, and the good news for Draghi is that most say it'll be enough.
The results of the poll signal what officials might have to deliver if they want to avoid a repeat of December, when a tweak to stimulus underwhelmed investors and sparked a market selloff. Just three months on, with consumer prices falling again and the outlook worsening, the central bank faces a critical test of its credibility.
"Draghi will not want to disappoint markets again," said Holger Sandte, chief European analyst at Nordea Markets in Copenhagen. "I struggle to imagine that all the conventional and unconventional measures can – one far day – be unwound smoothly. But the ECB's more immediate worry is to prevent the risk of deflation from increasing."

The euro fell for the first time in four days on Monday. The single currency was down 0.4 percent to $1.0967 as of 4:19 p.m. Frankfurt time.
Nearly three-quarters of the economists surveyed expect the ECB to expand monthly bond purchases on Thursday, and all but one see the deposit rate being cut further below zero.
Among those who foresee quantitative easing being expanded, the median estimate is for an increase to 75 billion euros ($82 billion) a month. The central bank currently buys an average of 60 billion euros a month -- data published Monday showed it spent 62 billion euros in February.
Under the ECB's pledge to buy debt until at least March 2017, that would add almost 200 billion euros to the 1.5 trillion-euro program. More than a third of respondents said Draghi will announce an extension past that date, with most of those saying it'll be stretched until at least the final quarter of next year.

The deposit rate will probably be cut by 10 basis points to minus 0.4 percent, the survey showed. That's in line with investor bets based on swaps on the euro overnight index average. Two-thirds of respondents said the ECB will introduce a tiered deposit rate, or a similar system, to reduce a profit squeeze on banks that threatens to curb lending.
Since he became ECB president in November 2011, Draghi has announced eight interest-rate cuts, two long-term loan programs for banks, and an asset-purchase program that has been both expanded and extended,citing the risk of weak price growth. He's also introduced forward guidance on rates, eased refinancing operations, and created an emergency bond-buying plan for stressed economies that has never been used.
After all that, inflation is running at minus 0.2 percent, and revised ECB macroeconomic forecasts to be published on Thursday may show the goal of returning consumer price growth to just under 2 percent being pushed further and further out. While a market gauge of inflation expectations jumped last week, the measure has still fallen significantly in recent months. The Sentix economic index for the euro area published on Monday slid for a third month.
In short, as Executive Board member Peter Praet has noted, the credibility of the central bank is at stake.
"It is clear that the impact of ultra-easy monetary policy has only been successful to a limited degree," said Alan McQuaid, chief economist at Merrion Capital Group Ltd. in Dublin. "'We still think Draghi will do all in his power to achieve the 2 percent inflation goal."
Economists in the survey signaled that the ECB president has the potential to do enough at this meeting to succeed. More than 70 percent said there would be no further expansion in monthly QE purchases after this month. Sixty percent said there would be no further cuts in the deposit rate, though a third predicted another reduction by June. Among those expecting another decrease, the median estimate is for 10 basis points.
Eighty percent said the ECB will reach its inflation goal before Draghi's term expires in October 2019, down just slightly from 83 percent in January's survey.

Any tiered system for the deposit rate might draw on the experience of Switzerland, Denmark, Sweden or Japan, where lenders are granted some exemptions. The ECB has said it's studying the systems used by other central banks.
Changes to the breadth of QE are less likely for now. Only 30 percent of respondents expect the ECB to include corporate-bond purchases in the program, which is currently restricted to government and agency debt, covered bonds and asset-backed securities. National central banks -- especially Germany -- could run short on qualifying government debt before the program ends.
"Corporate bonds and non-performing loans are the most obvious addition," said Claus Vistesen, chief euro-zone economist at Pantheon Macroeconomics Ltd. "But I think the ECB will shy away from that at this point."
For now, the chief focus will be on ensuring Draghi can convince investors he's still able to revive inflation and so underpin the euro area's recovery in the face of global weakness.
"Market expectations haven risen considerably," said Christopher Matthies, an economist at Sparkasse Suedholstein in Neumuenster, Germany. "Expectation management has to be crucial, and a primary concern for the ECB after the December disappointment."
Before it's here, it's on the Bloomberg Terminal.
LEARN MORE