Dijsselbloem Says Greek Debt Talks Can Start Soon Given Progress
by , , and
Euro area to assess Greek debt as bailout review wraps up

Creditor mission chiefs could return to Athens on Tuesday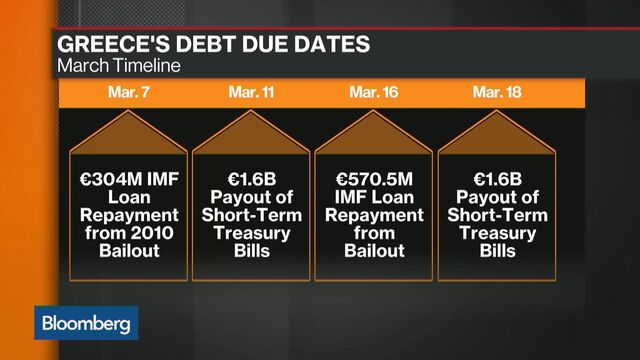 Euro-area finance chiefs handed Greece the prospect of talks on debt relief as soon as its bailout review wraps up, while renewing their call on Prime Minister Alexis Tsipras's government to act on pensions, privatization and the budget.
"The moment's now coming very close," Eurogroup chief Jeroen Dijsselbloem, who is also Dutch finance minister, told reporters after chairing a meeting of his fellow euro-region counterparts on Monday in Brussels. He stopped short of predicting a firm timetable for negotiations, while suggesting talks could make progress before Greek Orthodox Easter on May 1.
Mission chiefs for Greece's international creditors are now scheduled to start heading back to Athens as early as Tuesday.
"In order to make it all fit and work, we may have to bring all of this together in the comings months," Dijsselbloem said. "That means speeding up of course both the review process as quick as possible, and also bringing forward the debt discussion. That could allow us to reach a political agreement."
Easier Terms
Euro-area finance ministers have pledged to discuss whether Greece needs easier debt terms -- and if so what kind is possible -- once the nation passes the first overall review of its third aid program, worth 86 billion euros ($95 billion). The International Monetary Fund has been one of the strongest advocates for debt relief, while also taking the hardest line on fiscal measures needed to complete the review.
The outcome of Monday's meeting suggests that a deal is in sight but yet not bankable. Nonetheless, ministers aren't expecting an impasse big enough to renew the question of Greece's membership in the 19-nation currency bloc.
"The last thing we need is to prolong this into a crisis which will come to a head in July" as happened last year, Finnish Finance Minister Alexander Stubb said in an interview ahead of the meeting.
Greek Finance Minister Euclid Tsakalotos predicted that talks would proceed in an orderly fashion now that the creditors are renewing talks in Athens. He said the IMF has agreed to return to the negotiating table, "despite certain differences," setting the stage for progress.
'Sensible Conclusions'
"We look forward to discussions and closing in a timely manner the first review and having a discussion on debt," he said after the meeting. "I am sure that sensible people, when they get across the table, will find sensible conclusions."
Under the bailout signed last year, Greece must aim for a budget surplus, before interest payments, of 3.5 percent of gross domestic product by 2018. Any delay in resolving its bailout review threatens additional economic discord as a humanitarian crisis looms amid the worst refugee crisis since World War II.
Greece also is heading toward a more general cash crunch, said Klaus Regling, head of the European Stability Mechanism, after Monday's meeting. He said Greece faces debt service payments of about 2.5 billion euros in the second quarter, ahead of a larger bill due in July.
"I cannot give you a date when the liquidity situation gets so tight that emergency measures need to be adopted, because the situation is fluid," Regling said. Regarding the July hurdle, "my central scenario is that the program review will be concluded well before then."
Before it's here, it's on the Bloomberg Terminal.
LEARN MORE