Cornell President Elizabeth Garrett Dies of Colon Cancer
Janet Lorin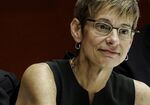 Cornell University President Elizabeth Garrett died on Sunday, less than a year after she was inaugurated as the first woman to lead the Ivy League school.
Garrett died from colon cancer, the Ithaca, New York-based school said in a statement Monday. Garrett, 52, was inaugurated as Cornell's president in September, following an appointment as provost at the University of Southern California.
"Beth was simply a remarkable human being -- a vibrant and passionate leader who devoted her life to the pursuit of knowledge and public service and had a profound, positive impact on the many lives that she touched," Robert Harrison, chairman of the school's board of trustees, said in the statement.
Before it's here, it's on the Bloomberg Terminal.
LEARN MORE