China Said to Plan Crackdown on Loans for Home Down-Payments
Bloomberg News
Central bank, regulators said to scrutinize property risks

Regulators said to target lenders including P2Ps, developers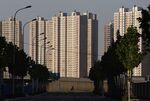 Chinese regulators plan to impose new rules to end the practice of homebuyers taking out loans to cover down-payments, as they step up scrutiny of financing risk in the property market, according to people familiar with the matter.
The rules will bar lenders including developers, housing agencies, small-loan companies and peer-to-peer networks from offering loans for down-payments, said the people, who asked not to be named because the matter isn't yet public. Regulators including the central bank and the China Banking Regulatory Commission will also ask commercial banks to scrutinize mortgage applications and reject those where down-payments come from loans offered by such institutions, the people said.
China is planning the crackdown amid concerns about rising risks in the loan markets and warnings from officials that home prices in some top-tier cities are increasing too fast. Shanghai's most-senior official said the city's property market has "overheated" and should be more tightly controlled after a recent surge in residential housing prices.
"If implemented strictly, this move could slow home sales as it will have a psychological impact on investors," said Liu Yuan, Shanghai-based research director at Centaline Group, China's largest property agency.
Property Shares
The Shanghai Stock Exchange Property Index fell almost 1 percent at 1:45 p.m. to its lows for the day, as the Shanghai Composite Index gained 0.2 percent.
As part of the latest moves, regulators will also strengthen the stress tests of property loans, the people said, without offering details. Representatives at the People's Bank of China and the CBRC didn't immediately respond to faxed requests for comment.
Centaline's Liu said that the share of investors among homebuyers in Shenzhen, who are buying homes to invest in rather than live in themselves, has rebounded to its historical high of about 30 percent last seen in 2009, citing his agency's own surveys. He said it's hard to estimate the size of lending for down-payments, which has existed in the market for two to three years.
"Such lending brings hidden risks as it suggests actual leverage in mortgages is higher" than what bank data show, Liu said.
Easing Curbs
China in November 2014 started easing property curbs amid efforts to revive the world's second-largest economy. The measures -- intended to ease a glut of unsold homes in smaller cities -- have instead lifted prices in the country's biggest population centers. Prices in Shenzhen jumped 4 percent in January from a month earlier and have gained 52 percent over the past year. Values in the financial center of Shanghai have increased 18 percent in the last 12 months, while those in Beijing advanced about 10 percent.
Regulators last month allowed commercial banks to cut the minimum mortgage down-payment for first-home purchases to 20 percent from 25 percent and to 30 percent from 40 percent for second homes, except in five big cities with home-buying restrictions. Demand for real estate is also getting a boost from monetary stimulus after the PBOC cut benchmark lending rates six times since 2014, lowered banks' reserve requirements and flooded the financial system with cash to keep borrowing costs low.
The stimulus has helped propel borrowing by Chinese homebuyers to record levels. Medium- and long-term bank loans to households, mostly residential mortgage loans, surged by 478.3 billion yuan ($73.5 billion) in January, according to the latest data from the People's Bank of China.
— With assistance by Jun Luo, and Steven Yang
Before it's here, it's on the Bloomberg Terminal.
LEARN MORE