Cameron Deploys U.K. Ships to NATO's Migrant Operation in Aegean
by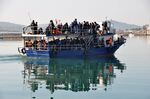 David Cameron announced a new U.K. naval deployment to join the North Atlantic Treaty Organization's operation against refugee trafficking from Turkish shores, as he called on European Union leaders to redouble their efforts against the gangs responsible.
"We've got to break the business model of the criminal smugglers and stop the desperate flow of people crammed into makeshift vessels from embarking on a fruitless and perilous journey," the British prime minister said before attending an EU summit in Brussels on the matter. "That's why this NATO mission is so important."
Britain will send a naval ship, a helicopter and two other smaller vessels to aid the NATO operation in the Aegean Sea that already includes German, Canadian, Turkish and Greek boats. The mission's purpose is to identify refugee traffickers and relay the information to the Turkish coastguard.
"It's an opportunity to stop the smugglers and send out a clear message to migrants contemplating journeys to Europe that they will be turned back," Cameron said in a statement released by his office in London. "That's why the U.K. is providing vital military assets to work with our European partners and support this mission."
Before it's here, it's on the Bloomberg Terminal.
LEARN MORE