Brazil Bulls Finding Silver Lining as Bears Lurk in Bond Market
by and
Country's local bonds have plunged 40% in past three years

Brazil debt yields top 14% amid negative rates around world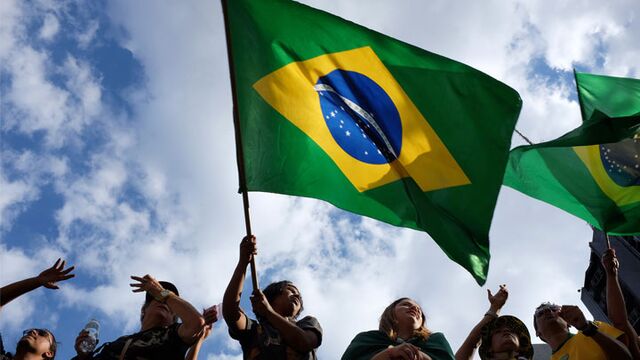 After Brazil saddled bond investors with losses of 34 percent in the past three years, the nation's debt market has become one of the most contentious battlegrounds between bulls and doomsayers.
The detention of former President Luiz Inacio Lula da Silva Friday only bolstered the case for bargain hunters betting the country's notes are too cheap to be ignored. Average yields for local-currency debt are more than 14 percent at a time when about $7 trillion worth of government bonds yield less than zero.
To bulls such as Koon Chow, a strategist at Union Bancaire Privee Ubp SA, the chances are increasing that President Dilma Rousseff, Lula's handpicked successor, will be impeached -- a move that would pave the way for Brazil to pass the reforms needed to pull the country out of its deepest recession in more than a century. 
"This could be the turning point," he said from London.
But to RBC Capital Markets strategist Daniel Tenengauzer, Lula's detention only adds more risks to a country that is struggling with spiraling debt and an overvalued currency.
"The Brazilian fundamental story has not improved," Tenengauzer said in a note to clients Friday. Impeaching Dilma will "postpone necessary reforms."

The markedly divergent opinions underscore how difficult it's become to predict the future in a country that seems to surprise investors at almost every turn. The arrest of prominent businessman Andre Esteves in November for his alleged role in the bribery scandal that's now ensnared Lula snuffed out a rebound in the nation's financial assets.
Heavily armed police raided Lula's home as part of an ever-expanding probe into kickbacks at Brazil's state-controlled oil company. Prosecutors say they have evidence that companies rewarded Lula with donations and speaking fees in return for government favors. Lula, the most popular president in the country's history when he left office, denies wrongdoing.
Franklin Templeton's Michael Hasenstab has been among the most bullish investors in Brazil. A contrarian known for scooping up distressed Irish and Hungarian debt during the European crisis, he doubled his holdings of Brazil's local bonds to $5.9 billion in the fourth quarter, filing data compiled by Bloomberg show. The bet has paid off so far this year, with the notes' 15 percent gain in dollars making them the best performers in emerging markets.

"We see a path to recovery, despite the likelihood for continued volatility this year," he said on Templeton's website Feb. 23. "Overall, we view the country as economically strong; it's just the policy mix that needs to be corrected."
There are other signs Brazil has turned a corner, said Union Bancaire Privee's Chow. The nation's current-account deficit has narrowed to a three-year low as imports decline and exports rise. That's evidence the real's nearly 60 percent depreciation since late 2011 is helping restore some of the country's competitiveness.
Yacov Arnopolin, a New-York money manager at Goldman Sachs Asset Management, sees inflation peaking after quickening to 10.7 percent in January, more than double the government's target rate. While policy makers probably won't reach their goal of slowing price increases to 4.5 percent in the near term, he favors Brazil's short-maturity notes and long-dated inflation-linked bonds.
Risks still abound. By March, the nation's per-capita gross domestic product will have declined by 10 percent after two years of recession, resembling a depression that gripped Brazil during the so-called lost decade of the 1980s, according to Goldman Sachs Group Inc. Citigroup Inc. estimates public debt will amount to 80 percent of GDP by next year, up from 52 percent in 2013.
Lula's detention "is certainly good for market sentiment, but it is not going to pull the economy out of recession and ease the debt burden on corporates and consumers," said Kieran Curtis, who oversees $1.3 billion in emerging-market assets at Standard Life Investments Ltd. in London.
Marcelo Assalin, who manages $7 billion as head of emerging-market debt at NN Investment Partners, said he's cutting his holdings of Brazilian bonds as valuations are no longer compelling. He points to the real's 5 percent gain against the dollar this year. The currency slipped 1 percent Monday to 3.7919 per dollar as of 1:40 p.m. in New York.
"Fundamental pictures are very bleak," Assalin said from the Den Haag. "From now on, it deserves some caution."
Before it's here, it's on the Bloomberg Terminal.
LEARN MORE