Apple Software Chief Warns One Phone Break-in Can Wreak Havoc
by
Federighi argues government order seeks to weaken security

Criminals could exploit IPhone backdoor once created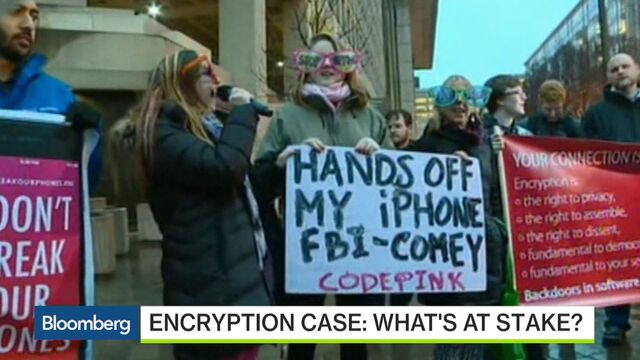 Apple Inc.'s software chief warned that creating a backdoor into the iPhone at the center of its battle with the U.S. government could threaten the safety of millions, arguing that criminals can attack all kinds of sensitive networks through just one person's mobile device.
Craig Federighi, lead architect of Apple's mobile operating software, weighed in on an escalating fight between much of the technology industry and the Department of Justice. The U.S. government is trying to use a court order to force Apple to help it crack an iPhone used by a terrorist in a 2015 California shooting.
In an opinion piece in the Washington Post, the Apple senior vice president argued that law enforcement agencies were effectively asking the company to "turn back the clock to a less-secure time." While they've stated that access to personal devices is essential in fighting crime, building software to break into phones could in fact endanger millions, he wrote.
"Your phone is more than a personal device. In today's mobile, networked world, it's part of the security perimeter that protects your family and co-workers," he wrote. "Our nation's vital infrastructure — such as power grids and transportation hubs — becomes more vulnerable when individual devices get hacked."
Criminals and terrorists seeking to infiltrate systems networks may start attacks through access to just one device, he said.
Rallying Cry
Apple's refusal so far to accede to the request has galvanized its peers and ignited a debate over the balance between the needs of law enforcement and the importance of customer privacy.
Many of the industry's largest players, from Microsoft Corp. to Alphabet Inc.'s Google, have rallied around Apple, citing similar arguments about the wider implications of the court order and the danger to personal security. Law enforcement groups argue that their ability to extract data from evidence is critical to solving crimes and protecting the public.
"Once created, this software — which law enforcement has conceded it wants to apply to many iPhones — would become a weakness that hackers and criminals could use to wreak havoc on the privacy and personal safety of us all," Federighi wrote in his op-ed. "When software is created for the wrong reason, it has a huge and growing capacity to harm millions of people."
Before it's here, it's on the Bloomberg Terminal.
LEARN MORE