Abenomics Is Losing Support With Economists and Voters Alike
by and
Revival plan receives low marks in Bloomberg economist survey

"The end of regulatory reforms will be the end of Abenomics"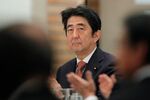 Abenomics hasn't had much impact reviving the fits-and-starts Japanese economy. That's the verdict of nearly two dozen economists canvassed in a new Bloomberg News survey.
Prime Minister Shinzo Abe's signature domestic policy received an average score of 4.6 points out of 10 for overall economic effectiveness in a survey of 23 economists by Bloomberg from Feb. 26 to March 4. The survey sounded out economists about the efficacy of Abe's three-pronged program -- aggressive monetary policy, fiscal stimulus and a regulatory overhaul -- on Japanese growth, deflation and structural reforms on a scale of 1 (worst) to 10 (best).
The Bank of Japan's monetary expansion and asset purchases have helped push the yen down to multi-year lows against the dollar and sparked a stock market rally from just before Abe took power in late 2012 through most of last year. However, the economy has performed unevenly, falling into recession in mid 2014 and then swinging between quarters of growth and contraction last year. 
Data Tuesday confirmed the economy shrank an annualized 1.1 percent in the final three months of 2015. HSBC Holdings economist Izumi Devalier warned it is probable that gross domestic product will shrink again in the period ending March 31.
Now, attention is increasingly shifting to whether Abe's government will push through structural reforms that many economists believe are needed to produce sustainable growth. More than half-way through his projected term in office, which is expected to end in 2018, time is running short for Abe to push through bolder plans such as job-market reforms and getting more women into management roles.
'Downward Pressure'
Foreign investors are turning their back on Abe, who proclaimed "Japan is back" and "buy my Abenomics!" at the New York Stock Exchange in September 2013. Among them is Alan Gayle, a senior strategist for Atlanta-based Ridgeworth Investments, which has about $42.5 billion under management.
"The story in Japan is not unfolding the way a lot of people expected, so that's going to put downward pressure on their markets going forward," according to Gayle, who has been cutting back international exposure, including Japan. "The Japanese have been trying a lot of things, and they don't seem to be gaining traction. Most of the comments that I'm hearing float around the notion that Japan really needs to look at structural reforms as a way to unlock potential." 
Selloff
The Topix index has slumped 12 percent this year as foreign investors, who account for about 70 percent of stock trading in Japan, have sold on a net basis for eight straight weeks. That's in stark contrast to 2013, when overseas investors pumped a record 15 trillion yen ($132 billion) into the market.
In the Bloomberg survey, the economists were more critical about the so-called third arrow of Abenomics focused on structural reform to pursue a growth strategy than about changing the atmosphere with rhetoric and stimulus measures. 
They rated Abenomics at an average 4.1 and 4, respectively, for putting Japan's economy on a sustainable growth path and laying the future foundation with structural reforms, while the rating was 5.1 for ending the deflationary mindset.
A survey by the Nikkei newspaper and TV Tokyo between Feb. 26-28 showed a half of respondents said they don't approve of Abenomics, while 31 percent said they do. It was the first time that the rate of those who didn't support Abenomics reached 50 percent, the newspaper said.
'Little Progress'
"The problem with Abenomics is it relies on monetary policy too much," said Akio Makabe, an economics professor at Shinshu University in central Japan. "We've seen little progress made for fiscal rehabilitation and structural reforms like deregulation while stocks were up. I'm afraid that may hinder growth in the medium and long terms."
Gains have been made in consumer prices, which are no longer in outright decline, as they were before Abenomics. When the impact of food costs and the plunge in oil is stripped away, inflation is about 0.7 percent. Until recently, the yen's decline was also helping large companies to record profits as their products became cheaper in global markets.
Even so, there is abundant evidence that Abenomics isn't working as promised:
Wages including bonuses and overtime pay, adjusted for inflation, fell in 2015 for a fourth consecutive year, according to the labor ministry.
Private consumption fell for two years following a sales tax bump in April 2014, according to the cabinet office. 
Japan's gross domestic product per person rose 2.8 percent from 2012 to 2015, according to the International Monetary Fund. That's a step back from the previous three years, when Japan jumped 6.4 percent.


BOJ's Plea
A plea for bold reforms is also coming from the Bank of Japan, which has done record monetary easing to buy time for structural reforms to boost growth. It's still far away from reaching its 2 percent price goal, even after introducing negative rates.
"It's about time for them to present policies that target at not only 'hopes' but also potential growth power," said Kyohei Morita, a Tokyo-based economist at Barclays Plc. "Abenomics still has plenty of important tasks to tackle."
Without implementing structural reforms, Japan is on course to have done little to address an underlying debt burden that may pose a future risk to the economy.
End Game
"I get a sense that Abe is losing his desire to tackle bedrock-like regulations," said Yuichi Kodama, chief economist at Meiji Yasuda Life Insurance Co. in Tokyo. "The end of regulatory reforms will be the end of Abenomics."
Abe deserves credit for securing the Trans-Pacific Partnership regional trade pact and cutting corporate income taxes, according to Hajime Takata, chief economist at Mizuho Research Institute. It's just that Japan's economic problems run too deep to be solved in a few years, he said.
"I have a 25-year-old son and he's lived with deflation his entire life," Takata, 57, said. "I don't think three years can change the mindset of people."
Before it's here, it's on the Bloomberg Terminal.
LEARN MORE