'Brexit' Would Boost U.K. Bonds, JPMorgan Asset Management Says
by
Pound halts five days of advances against U.S. dollar

Expect more volatility closer to June 23 vote: Gartside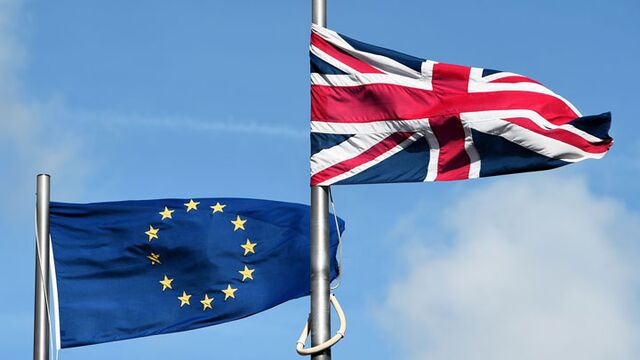 U.K. government-bond investors need not fear the prospect of Britain voting to leave the European Union as they stand to benefit from economic woes that follow the vote, according to one of the world's-largest money managers.
"If a 'Brexit' happened it would be very likely the Bank of England would ease policy again, either by cutting interest rates or more QE -- gilts are very much a beneficiary of that," Nicholas Gartside, London-based chief investment officer for fixed-income at JPMorgan Asset Management, which oversees more than $1.7 trillion, said in an interview on Bloomberg Television's "Countdown" with Anna Edwards. "You also have a scenario where you've got a lot more economic uncertainty. So, again, gilts are a beneficiary of that."

Gilts have delivered the second-biggest returns among developed nations this year. The pound meanwhile has taken the brunt of investor uneasiness about the possibility of Britain exiting the world's-largest trading bloc following the June 23 vote, with its 3.6 percent slide against the dollar this year the worst among 16 major currencies. It was little changed on Monday as the dollar advanced against most of its major peers amid speculation of a widening policy divergence between the Federal Reserve and its main counterparts.
The benchmark 10-year gilt yield fell two basis points, or 0.02 percentage point, to 1.47 percent as of 4:25 p.m. London time. The 2 percent security due in September 2025 rose 0.17, or 1.70 pounds per 1,000-pound ($1,421) face amount, to 104.725. The yield touched 1.226 percent on Feb. 11, the lowest since Bloomberg began collecting the data in 1989.
A U.K. exit is far from certain, with polls showing the outcome is hard to call. Bank of England officials, including Governor Mark Carney, will testify at Parliament's Treasury Committee on Tuesday on the economic and financial costs and benefits of EU membership.
'More Volatility'
"Gilt yields head probably through 1 percent" after a U.K. exit, Gartside said. "We look at the polls at the moment, it's arguably a narrow majority for the "In" camp, and one thing we'll follow is the polls very, very closely. The second point is it does feel a long way away until June 23. We're in the phony war stage really, I suspect as we get a lot closer to the 23rd the debate will intensify. What investors should prepare for is a lot more volatility."
Britain's sovereign debt returned 4.26 percent this year through March 4, according to the Bloomberg World Bond Indexes. That's second only to a 4.31 percent gain in Swiss government securities among developed markets.
The pound halted five days of gains versus the dollar on Monday and was little changed at $1.4209. It was also steady at 77.26 pence per euro.
"We are just being dragged down by euro-dollar, so caught in the crossfire as is often the case when there isn't a domestic story to trade off," said Adam Cole, head of global foreign-exchange strategy at Royal Bank of Canada in London, who sees the currency recovering to 71 pence per euro and $1.45 by the end of June.
Before it's here, it's on the Bloomberg Terminal.
LEARN MORE