PBOC's Yi Reveals Some Non-Dollar Reserves in Transparency Bid
Bloomberg News
Nation holds euro, yen, pound, developing nations' assets

Disclosure improves communication with market: Commerzbank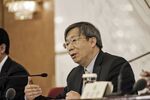 A Chinese central bank official disclosed for the first time the sources of non-dollar assets in its foreign-exchange reserves, the latest gesture by the monetary authority to respond to calls for increased transparency of its currency policy.
Foreign exchange reserves held by the People's Bank of China include the euro, yen, pound and developing nations' assets, in addition to U.S. dollars, Deputy Governor Yi Gang said at a news briefing in Beijing on Sunday. He did not disclose amounts of holdings in the currencies.
The stockpile is "fully diversified" and the allocation of assets is optimized for trades, overseas investment and payments, he said. 
The hoard, still the world's largest at $3.2 trillion, declined by $513 billion last year in the first annual drop since 1992 as China sought to defend the yuan amid a surge of capital outflows since a surprise devaluation in August.
"This is a step for the PBOC to strengthen its communication with the market," said Zhou Hao, a Singapore-based senior economist at Commerzbank AG. "I hope the the central bank will offer more details of its holdings, such as how much in bonds and other assets it owns."

The stockpile will stay at a "reasonable level," but a further decline wouldn't be surprising, Yi said. He reiterated that the yuan will be stable against a basket of currencies, and there's no basis to support a persistent depreciation in Chinese currency. Bloomberg Intelligence estimates that a record $1 trillion of money fled overseas last year amid expectations that the yuan will decline further.
A replica of the CFETS RMB Index, which was released in December and measures the yuan against 13 currencies, has been trading within a range of 99 and 101 over the past nine weeks.
The yuan has declined 4.6 percent since August, when the central bank said it was shifting to a more market-driven mechanism to set the currency's daily reference rate.
— With assistance by Tian Chen, Jun Luo, and Emma Dong
Before it's here, it's on the Bloomberg Terminal.
LEARN MORE