Merkel Lauds Clinton, Brushes Off Trump Attacks Over Refugees
by
German leader praises Clinton's `strategic thinking' in Bild

On Trump, `I don't know him personally,' Merkel says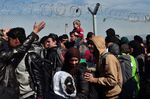 German Chancellor Angela Merkel professed her admiration for Democratic presidential candidate Hillary Clinton, while brushing off attacks by Republican front-runner Donald Trump.
In an interview with Bild am Sonntag newspaper, Germany's first female chancellor lauded the former U.S. secretary of state, citing her commitment to women's rights and health-care policy. Merkel has had several encounters with Clinton, particularly during the latter's stint as top U.S. diplomat from 2009 to 2013.
QuickTake Europe's Refugee Crisis
"I admire her strategic thinking and her strong commitment to the trans-Atlantic partnership," Merkel told Bild. "Whenever I was able to work with Hillary Clinton, it was a great pleasure."
The chancellor was less effusive about Trump, the billionaire real-estate developer who last October called Merkel's open-border policy on refugees "insane." In December, Trump tweeted that Merkel was "ruining Germany."
"I don't know him personally," Merkel told Bild. As to personal attacks, Merkel said: "I see no need to respond to him on that."
Before it's here, it's on the Bloomberg Terminal.
LEARN MORE