How Hedge Funds Are Getting Around the PBOC's Market Meddling
by and
Korean won, Taiwan dollar, ETFs are seen as safer wagers

Need for alternatives increases as China burns speculators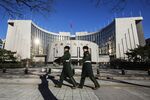 Hedge funds with a bearish view on China's currency are increasingly betting against yuan proxies instead, after the central bank stepped up efforts to stabilize the exchange rate.
Crescat Capital in Colorado is shorting U.S. exchange-traded funds that track Chinese and South Korean stocks, while Hong Kong-based Bright Stream Capital Management favors the Korean won and Taiwan's dollar. The exchange rates tend to decline on negative China sentiment because the nation is their biggest export market.

The need for alternatives to direct bets on the yuan intensified after China's central bank burned speculators earlier this year. The monetary authority drove offshore borrowing costs to record levels by mopping up yuan supplies and intervening to support the currency. Crescat Capital returned 7.1 percent in the first two months of 2016 from its macro fund as its bearish ETF bets paid off, according to an investor update. Bright Stream said its macro fund gained 2.8 percent in January, helped by short wagers on the Taiwan dollar and the won.
"These currencies have decent liquidity and relatively low interest rates, so the negative carry in shorting these currencies is not that bad," said Ka-hay Yip, a former SAC Capital manager who oversees Bright Stream's $36 million. "The central banks there also do not intervene as heavily as the People's Bank of China, and the risk of having new capital control rules regarding these currencies is lower."
Short Bets
QuickTake China's Managed Markets
Crescat Capital's short bets include Deutsche X-trackers Harvest CSI 300 China A-Shares, the largest U.S. ETF that tracks domestic Chinese stocks, and the iShares China Large-Cap ETF. Short interest in the Deutsche X-Trackers ETF has fallen to 2.8 percent of shares outstanding, from 17 percent at the start of the year. The measure of bearish wagers on the iShares ETF has halved to 2.3 percent this year.
"With these, you also get exposure to Chinese equities and particularly banks, which is what we want as long as China tries to defend its currency," said Kevin Smith, founder of Crescat Capital, which oversees $72 million in Denver.
Other alternatives to shorting the yuan include Sweden's Atlas Copco AB, the world's biggest maker of compressors. Popular proxies have also included U.S. machinery maker Caterpillar Inc., mining companies Rio Tinto Group and Fortescue Metals Group Ltd., and the Canadian and Australian dollars.

Intervention by China's central bank has helped the yuan recover from a five-year low in January, with the currency up around 1 percent in the past month. That pared its decline since an Aug. 11 devaluation to 4.6 percent. The nation's leaders have signaled support for the currency of late, with PBOC Deputy Governor Yi Gang saying last week that yuan and monetary policies will remain stable.
China's foreign-exchange reserves, the world's largest currency hoard, dropped by $28.6 billion to $3.2 trillion in February, the People's Bank of China said in a statement Monday. The median forecast of economists surveyed by Bloomberg was for $3.19 trillion. The reserves include the euro, yen, pound and developing nations' assets, in addition to U.S. dollars, Yi Gang said at a news briefing in Beijing on Sunday. This is the first time that a central bank official is disclosing the sources of non-dollar assets in the stockpile.
Persistent capital outflows from China since mid-2014 were probably driven more by local companies paying down their dollar-denominated debt -- in anticipation of a stronger U.S. currency -- than investors ditching Chinese assets, according to the Bank for International Settlements.
Sharpe Ratio
The Sharpe ratio, which measures returns adjusted for price swings to gauge carry trade appeal, was 0.77 to short the Taiwan dollar in 2015, and 0.62 for the won. It was 0.1 for the yuan.
Currencies of other Asian nations may be more vulnerable than the yuan because China has more tools to deal with its flagging economy, said Bright Stream's Yip.
The PBOC on March 1 lowered banks' reserve-requirement ratio by 0.5 percentage point, releasing an estimated 685 billion yuan ($105 billion) into the financial system and keeping a tight rein on interbank borrowing costs. The rate on overnight yuan loans in Hong Kong was 1.93 percent on Friday, compared with an unprecedented 66.82 percent on Jan. 12. China's large foreign reserves also help, with the latest tally due to be published on Monday.
"Other countries which rely on strong China growth may not have the policy flexibility," Yip said. "That's why I would rather long dollar against other Asian currencies than long dollar against the yuan directly."
Before it's here, it's on the Bloomberg Terminal.
LEARN MORE