Germany Suffers Euro Headache That Will Hurt Europe, King Says
by
Former BOE governor says euro's creators won't admit mistake

Single currency seen to achieve opposite of what was intended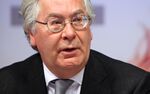 Germany's membership in the euro zone has achieved the opposite of what its architects intended because the single currency has driven its constituent nations apart, former Bank of England Governor Mervyn King said.
"I worry that this is now going to be a battle between the political will of an elite that created this who daren't now admit that it was a mistake, and economic arithmetic," King said on the BBC's "Andrew Marr Show" on Sunday. "We're all going to suffer from that."
King, who retired in 2013 and is now doing media interviews to promote a new book, was expanding on one of its conclusions: that Germany might need to exit the euro region. While describing the motivations for the currency's creation as "of the very best," his analysis remains bleak.
"Germans wanted to bind Germany into Europe so the rest of Europe would never again be frightened of Germany," King said. "It's had exactly the opposite effect, and if you look at the attitudes towards Germany today in Greece, or even Italy, you see there's more tension and concern about Germany than ever before, and this is a headache for Germany."
King said that the Germans didn't intend to reach this point, but the "economic arithmetic" has led them there.
"In the longer run, the euro area -- not the EU -- but the euro area is something we should all be concerned about," he said, insisting that his analysis doesn't necessarily mean that he favors Britain leaving the European Union.
"It's very clear that we are influenced and affected by what goes on in the euro area," he said. "The euro area is our biggest trading partner, that's going to carry on being the case, and therefore it does matter to us what goes on there."
Before it's here, it's on the Bloomberg Terminal.
LEARN MORE