Five Chinese Officials to Watch as Xi Prepares Reshuffle
Bloomberg News
Potential to shape strategic areas in politics and economics

Meetings offer political stage for delegates to stand out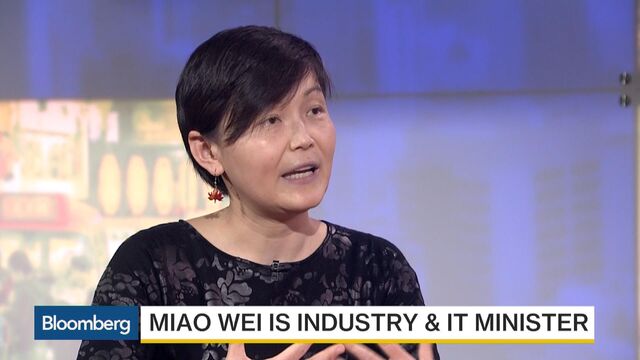 As thousands of Chinese officials hurry about Beijing in the highly choreographed exercise in political theater known as the National People's Congress, it's easy to get lost in the crowd. The gathering, however, provides a rare opportunity to see how delegates, ministers and government advisers handle themselves on the national stage. For President Xi Jinping, the congress provides an opportunity to assess the party's top talent as he prepares for a twice-a-decade reshuffle by the ruling Communist Party next year.
Here are five to watch:
Chen Miner, 55, Guizhou Party Chief

Chen, whose career has dovetailed with that of Xi, is a potential dark horse competitor for the next-generation leadership to be installed in 2022. Chen advanced to governor of the southwestern province of Guizhou in December 2012 just 33 days after Xi became Chinese Communist Party chief -- his first provincial-level promotion. In July, Chen was promoted to provincial party chief, only the third regional party boss born in the 1960s, alongside Hu Chunhua and Sun Zhengcai, of Guangdong and Chongqing, respectively. As propaganda chief in Zhejiang, which Xi led from 2002 to 2007, Chen shepherded Xi's regular column in the provincial newspaper. More than 200 of those columns were compiled into a book touted as the origins of Xi's political philosophies.
Fang Xinghai, 51, CSRC Vice Chairman

Fang displayed calm and confidence in January at the World Economic Forum in Davos, where he also impressed global power-brokers with his sense of humor and fluent English. Fang, who has a doctorate degree in economics from Stanford University, was named vice chairman of the China Securities and Regulatory Commission last year after regulators were chastised for mismanaging the wave of stock market turmoil. He previously was an economist at the World Bank in Washington before being lured back to China in 1998 by Central Bank Governor Zhou Xiaochuan, who was then president of China Construction Bank Corp. Before his current role, Fang was a director of a key financial-and-economic panel led by Xi.
He Lifeng, 61, Reform Commission Vice Chairman

The third-ranked deputy of China's top economic planner oversees the "One Belt, One Road" initiative, Xi's signature push to build an intercontinental web of infrastructure and trade links, with China at the center. His ties with Xi date back to the mid-1980s, when Xi was deputy mayor of the southeastern port of Xiamen and He was in charge of the city's fiscal affairs. He was among a handful of guests invited to the low-key wedding in 1987 when Xi and People's Liberation Army singer Peng Liyuan tied the knot. Before moving to the NDRC, He was deputy party chief of northern port of Tianjin, with the Binhai New Area as its flagship project.
Miao Wei, 60, Industry and Information Technology Minister

Miao, one of the two youngest cabinet ministers when appointed in 2010, runs the party group responsible for upgrading China's massive manufacturing sector. The ambitious plan highlighted Saturday in Premier Li Keqiang's annual work report, "Made in China 2025," calls for China to move up the value chain to become an innovative and green "global manufacturing powerhouse" in a decade. Miao was once dubbed China's Carlos Ghosn after turning Dongfeng Motor Co. from an indebted state-owned military truck manufacturer into a profitable automaker in the early 2000s. An engineer by training, the minister holds sway over some of China's most strategic industries, including automobiles, telecommunications, wireless technology, software and robotics.
Xu Lin, 52, Cyberspace Administration Deputy Director

Appointed in June as the youngest member of the Cyberspace Administration of China's leadership circle, Xu has the potential to become the top leader of the agency responsible for the world's largest Internet. The regulator -- established in 2014 -- is answerable only to Xi's central group on cybersecurity and was part of the decision to require Chinese banks and government agencies to purchase more information technology equipment from local vendors. The former Shanghai propaganda chief worked briefly with Xi during his half-year stint as Shanghai party boss in 2007.
---

---