EDF Shares Sink as Finance Chief Quits Over U.K. Reactor Project
by
Piquemal said to warn that Hinkley decision is being rushed

CEO Levy reiterates plan to determine project's future soon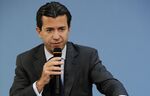 Electricite de France SA plunged in Paris trading as Chief Financial Officer Thomas Piquemal resigned after his plea to delay a U.K. reactor project was rejected.
EDF dropped as much as 9.6 percent, the biggest intraday slump since June 2014 and the largest decline among members of the Euro Stoxx Utilities index.
Piquemal had expressed concern that a final investment decision to build two new reactors at Hinkley Point could be announced as early as April, a move he warned might jeopardize EDF's financial situation, people with knowledge of the matter said. Chief Executive Officer Jean-Bernard Levy reiterated Monday that EDF intends to make a decision "in the near future."
Going ahead with the plants would strain the balance sheet at a time when electricity prices have collapsed in Europe, reducing cash flow just as EDF needs to fund billions of euros of maintenance at its French reactor fleet. Yet dropping the Hinkley Point C venture in southwest England could further damage the image of a French-designed reactor that's already faced setbacks at projects elsewhere.
"To proceed with Hinkley Point C at this juncture would be verging on insanity," Martin Young, an analyst at RBC Capital Markets in London, said by e-mail. "Mr. Piquemal's resignation arguably suggests exactly that."
EDF fell as much as 1.04 euros to 9.81 euros and traded at 10.09 euros as of 2:44 p.m. in Paris, extending its decline this year to 26 percent.
Levy plans to build two 1,600-megawatt plants for about 18 billion pounds ($26 billion), with China General Nuclear Power Corp. paying for a third. Proceeding as soon as this year would mean that almost 60 percent of equity capital at state-controlled EDF would be tied up in new nuclear projects by 2018, the people said.
'Regret Haste'
"With the support of its shareholder, the state, EDF can confirm that it is looking to invest in two reactors at Hinkley Point under the best possible financial conditions for the group," Levy said in a statement. "I regret the haste" of Piquemal's departure, he said, adding that the utility's France CFO Xavier Girre will assume the role provisionally.
The disagreements within EDF add to doubts about the timing of the Hinkley project, originally planned for completion in 2017 and now unlikely to be built until at least 2025.
When EDF announced in January a 5 percent reduction of its French workforce to cut costs, union representatives on the company's board called for Hinkley Point to be dropped or at least delayed until the same reactor models being constructed at Flamanville in France and in China are commissioned in several years' time.
Piquemal met with Levy twice last week over Hinkley's financing, the people said. He suggested that EDF delay a final decision until the new Flamanville reactor is connected to the grid in about three years, giving the company time to reduce nuclear new-build-related risks and focus on asset disposals.
Areva Purchase
That's also the time at which the Infrastructure U.K. clause -- through which the financing for Hinkley would be guaranteed -- would kick in. Such a delay would also give EDF time to integrate a stake in Areva SA's reactor unit that it plans to buy.
Levy turned down Piquemal's proposal, insisting that a decision should be made as soon as April, the people said.
Piquemal, 46, joined Paris-based EDF six years ago under Levy's predecessor Henri Proglio following stints at Arthur Andersen LLP, Lazard Freres Gestion and Veolia Environnement SA. He's been instrumental in untangling EDF's problematic investments in the U.S. and Italy, and setting a target to bring free cash flow after dividends back into positive territory in 2018.
Girre, 47, joined EDF last year, after previously being CFO of La Poste Group and CEO of XAnge Private Equity SA.
The utility is borrowing money to pay its dividend and plans asset sales to finance new developments. It cut annual operational expenditures by 300 million euros, or 1.4 percent, last year and plans to reduce them by a further 700 million euros by 2018. On Feb. 16, it reduced its estimate for how much it will spend to extend the life of its French reactors by 5 billion euros to 50 billion euros.

"EDF relies on very strong operational results, the internal transformation and the savings plans launched in 2015, and on investments in support of the energy transition and the renewal of the nuclear industry," Levy said in Monday's statement.
EDF shares, 85 percent of which are owned by the French state, sank to a record low on Feb. 25 and have lost almost 90 percent of their value since peaking in 2007. Standard & Poor's has threatened to downgrade the company's credit rating if the U.K. project, which has been planned for more than eight years, goes ahead.
The U.K. government has remained committed to the project, saying it will create 25,000 jobs and help meet a pledge to trim emissions. It has guaranteed that EDF will earn at least 92.50 pounds a megawatt-hour over a period of 35 years at Hinkley Point, almost triple current market rates. The French government led by Francois Hollande said last month it would help EDF meet its commitment and take its dividend in shares to help conserve cash.
Energy Ties
"We continue to fully support the project and President Hollande said it has the full support of the French government," Helen Bower, a spokeswoman for U.K. Prime Minister David Cameron, said in London on Monday, without saying whether an investment decision will be made in April. Both leaders agreed to deepen nuclear cooperation at talks in northern France last week, according to a statement from the president's office.
The reactor design from France's Areva was once a symbol of that nation's engineering prowess. EDF's former CEO Pierre Gadonneix predicted it would sell "like hotcakes" around the world. Project setbacks and safety fears following the Fukushima disaster in Japan in 2011 stymied those plans, while a flood of competing energy supplies from solar and wind has left one of the country's most important industries in distress.
Before it's here, it's on the Bloomberg Terminal.
LEARN MORE