business
China Streamlining IPO Rules Said to Be Unlikely This Year
Bloomberg News
Premier's annual work report didn't mention IPO reform

Regulator has two-year window for implementing IPO overhaul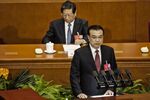 China's plan to streamline rules for initial public offerings is unlikely to be implemented this year, which was why Premier Li Keqiang didn't mention the revamp in his annual work report delivered Saturday, according to a person familiar with the situation.
Lawmakers in December granted the China Securities Regulatory Commission a two-year window in which to install a registration-based system for IPOs, which would end CSRC intervention in pricing and allow companies to go public quicker. Officials drafting Li's address for the opening of the annual full-session of the National People's Congress decided not to mention the system because they judged it unlikely to be realized in 2016, said the person, who asked not to be identified as the discussions were private.
Li had explicitly mentioned the registration system in both his 2014 and 2015 work reports. In this year's address, he only pledged to "move forward with the reform of stock and bond markets and increase the level of rule of law in their development." He also called for speeding regulatory improvements to cover all financial risks.
The year since Li mentioned the registration system in his 2015 work report has been a tumultuous one for China's stock market. A rout last summer wiped out $5 trillion of market value, followed by the January removal of trading circuit breakers less than a week after their introduction and capped off last month by Liu Shiyu replacing Xiao Gang as head of the stocks regulator. Authorities are also studying a merger of stock market, banking and insurance regulators into one agency, people familiar with the plans said last week.
While pushing back timing for the revamp is bad news for the more than 700 companies that have IPO applications pending with the CSRC, it does offer some respite to Chinese stock investors. Under the existing system, new listings are often priced cheaply due to the regulator's controls, meaning IPOs are well supported when they start trading, and offer safe havens from the bear market in equities.
Calls to the CSRC seeking comment during the weekend went unanswered. In a Feb. 26 statement, CSRC spokesman Deng Ge acknowledged that the various studies involved with changing the IPO process would require a "relatively long time," adding that the realignment is the "direction of China's capital market reform."
---

---

The two-year window granted to the CSRC theoretically allowed the registration system to be introduced as early as March 1. Huatai Securities Co. says it's not likely to happen until 2017 as the regulator allays investor concerns about a more market-reliant process that may damp IPO returns.
The CSRC imposed an unwritten rule in 2014 that caps IPO valuations under the existing listing system at 23 times earnings. The market-based registration model, if currently active, would see some smaller companies listed closer to the 55 times that the ChiNext Index traded at as of March 4.
Last year's listings posted an average offer-to-date gain of 155 percent, data compiled by Bloomberg show. Some 220 companies completed IPOs in 2015, compared with 128 in 2014 after a yearlong suspension of new sales as the securities regulator drafted rules aimed at curbing fraud and beefing up protection for investors.
"Liberalization is still the future direction," Luo Yi, a Shenzhen-based analyst at Huatai Securities, said in a Feb. 28 note. "The regulator will gradually loosen up the process and free up pricing as market expectation becomes stable, and the soonest this could happen may be in 2017."
— With assistance by Keith Zhai, Tian Chen, and Aipeng Soo
(
Updates with 2015 listing performance in ninth paragraph.
)
Before it's here, it's on the Bloomberg Terminal.
LEARN MORE