Merkel Pressures Greece to Step Up Refugee Aid, Bild Reports
By
Greece must make up for backlog of asylum-seeker shelters

German leader pledges EU support for Greek refugee measures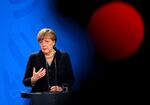 German Chancellor Angela Merkel boosted pressure on the Greek government to step up its capacity for sheltering refugees, pledging that the European Union will assist the country with the task.
QuickTake Europe's Refugee Crisis
Greece fell short of its aim of setting up shelter for 50,000 asylum seekers fleeing Syria and the Middle East by the end of 2015, Merkel said in an interview with Bild am Sonntag.
"The backlog needs to be made up posthaste," Merkel told the German newspaper. "I know from my talks with Greek Prime Minister Alexis Tsipras that he wants that too, but that that he needs our help to do it."
Thousands of refugees are stranded in Greece. Merkel in the Bild interview blamed the humanitarian crisis on other European states that tightened their borders against the influx, blocking passage north, where most asylum seekers have sought shelter in more accommodating countries such as Germany. The chancellor has said the blocked borders endanger Europe's system of passport-free travel, known as Schengen.
"Today we have a different situation, because Austria and the Balkan nations made unilateral decisions at their national borders that have unfortunately placed a burden on our partner and Schengen member Greece," Merkel told Bild.
The EU's 28 leaders and the Turkish government will discuss the refugee crisis in Brussels on Monday.