China's Li Pledges to Oppose Any Move by Taiwan for Independence
Bloomberg News
Pro-independence party's Tsai to become Taiwan leader in May

No tolerance for separatist activities by island, premier says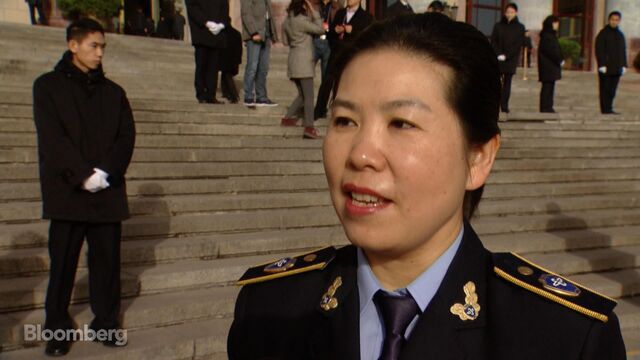 Chinese Premier Li Keqiang pledged to fight any push by Taiwan to formalize its split from the mainland, as the leader of a pro-independence party prepares to take over the island's presidency.
China would "oppose separatist activities for the independence of Taiwan, safeguard China's territorial integrity, maintain the peaceful growth of cross-strait relations, and safeguard peace and stability in the Taiwan Straits," Li said Saturday in his annual work report to the National People's Congress in Beijing. The premier said the so-called 1992 consensus -- an understanding that both sides belong to one China -- remained the political foundation for peaceful relations.

Li's remarks underscore China's bottom line less than three months before President-elect Tsai Ing-wen, the chairwoman of Taiwan's Democratic Progressive Party, is expected to take power. The pro-independence party ousted the more mainland-friendly Kuomintang in a landslide election in January, securing for the first time control of both the executive and legislative branches.
Tsai won over moderate voters wary of provoking China by pledging to uphold the "status quo" and focus on economic issues. But she hasn't endorsed the "one-China principle," which underpinned eight years of improved ties between the former civil war foes during outgoing President Ma Ying-jeou.
Red Line
Taiwan's independence from China represents a red line for the Communist Party. China still has about 1,200 missiles pointed at the island and passed a law authorizing an attack the last time a DPP government made moves toward independence. The relationship has broad significance, because the U.S. provides Taiwan a security umbrella under a 1979 law requiring America to defend the island from a Chinese attack.
Meanwhile, China on Saturday said the central government would spend 954.4 billion yuan ($147 billion) on defense this year, compared with 886.9 billion yuan last year. The 7.6 percent increase is the smallest in six years, as slowing growth restrains spending and President Xi Jinping implements the biggest military overhaul since the early days of the Cold War.
Zhang Zhijun, minister of China's Taiwan Affairs Office, said separately on the sidelines of the legislative gathering in Beijing that the Communist Party's stance on independence was clear and that cross-strait relations were at a key juncture. 
— With assistance by Wenwen Zhang, and Shuqin Ding
Before it's here, it's on the Bloomberg Terminal.
LEARN MORE