Payrolls in U.S. Surge While Wages Drop in Mixed Jobs Report
By
Employment climbs more than forecast 242,000 in February

Hourly earnings unexpectedly drop along with hours worked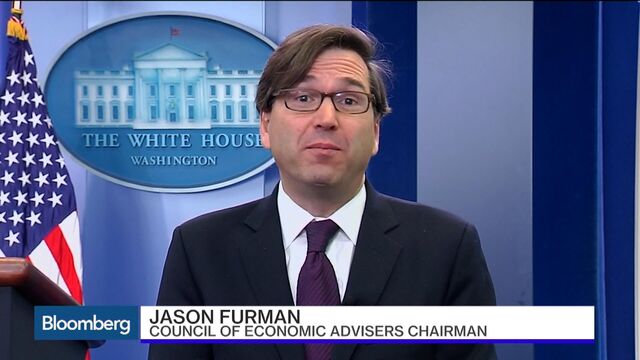 Employers added more workers in February than projected but wages unexpectedly declined, dashing hopes that reduced slack in the labor market was starting to benefit all Americans.
The 242,000 gain followed a 172,000 rise in January that was larger than previously estimated, a Labor Department report showed Friday. The jobless rate held at 4.9 percent as people entered the labor force and found work. Average hourly earnings dropped, the first monthly decline in more than a year, and workers put in fewer hours.
A job market in good health will reinforce job security and encourage Americans to spend, buffering the U.S. from the ill-effects of global economic weakness. At the same time, stronger wage growth, which will play a role in deciding the race for the White House, would help move inflation closer to the Federal Reserve's goal.
"It indicates the resilience of the economy," said Michael Feroli, chief U.S. economist at JPMorgan Chase & Co. in New York. "The labor market doesn't appear to be hurt by financial market volatility. Wages were a bit disappointing."
The median forecast in a Bloomberg survey called for a 195,000 advance. Estimates of 92 economists ranged from gains of 70,000 to 245,000. January was initially reported as a 151,000 increase. Revisions to prior reports added a total of 30,000 jobs to payrolls in the previous two months.
The unemployment rate, which is derived from a separate Labor Department survey of households, showed that the labor force expanded by more than a half million people and almost all found work. Joblessness was projected to hold at 4.9 percent, an eight-year low, according to the survey median.
The Election
The labor market is coming off its best two years for job growth since 1998-1999. While leading Democratic presidential candidate Hillary Clinton can point to economic progress under her party's leadership, Republican front-runner Donald Trump may steer voters to focus on limited wage growth and companies moving operations overseas because of high corporate tax rates.
Average hourly earnings dropped by 0.1 percent from the prior month, the first decline since December 2014, the Labor Department's figures showed. Worker pay increased 2.2 percent over the 12 months ended in February, less than the 2.5 percent forecast in the Bloomberg survey. Wage growth has been hovering just above 2 percent year-over-year on average since the current expansion began in mid-2009.

The average work week for all workers declined by 12 minutes to 34.4 hours.
Retailers posted strong employment gains for a second month, along with the health care industry. Payrolls at retailers climbed about 55,000 in February after a 62,000 advance a month earlier, while health care employment increased 57,400.
Payrolls at factories declined by 16,000 after a 23,000 gain and construction companies added 19,000 workers.
The participation rate, which shows the share of working-age people in the labor force, jumped to 62.9 percent, the highest since January 2015.
Fed policy makers, who lifted interest rates in December for the first time in almost a decade, have said they will make further moves gradually. They meet later this month. Sustained wage growth will help lift inflation closer to the central bank's goal.