Opera and Tears as Europeans Face Up to Prospect of `Brexit'
By
Italian Minister Padoan says he's hoping for a `happy ending'

Schaeuble warned Germany would `cry' over British exit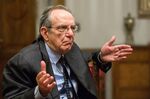 The Germans will cry if Britain leaves the European Union. The Italians are hoping the whole thing is a song-and-dance act.
QuickTake Will Britain Leave the EU?
Speaking in London on Thursday, German Finance Minister Wolfgang Schaeuble suggested his countrymen would weep if the U.K. headed for the door. On Friday, his Italian counterpart was in town, and faced the same question.
"We like opera," Pier Carlo Padoan told reporters, after some thought. "And opera requires four features to be successful: Great singers, great music, drama and a happy ending. Maybe we should look at this as a drama we have to go through, but overall much music and a happy ending."
Britain votes on June 23. It's not clear if the performance Padoan had in mind is the Welsh National Opera's new work, "Figaro Gets A Divorce."
Before it's here, it's on the Bloomberg Terminal.
LEARN MORE