Look Beyond Hinkley for Britain's Nuclear Future, Labour Says
by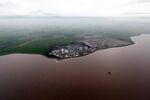 The U.K. should consider a range of new nuclear technology because "the future of nuclear in Britain cannot just be about Hinkley Point C," the long-delayed project by Electricite de France SA, the opposition Labour Party will argue on Friday.
"Beyond Hinkley there are an array of opportunities in other nuclear technologies," Lisa Nandy, the shadow energy secretary, is due to tell a Women in Nuclear meeting at the National Nuclear Laboratory in Warrington, northern England, according to remarks e-mailed by her office. "French, Chinese, American, Canadian and Japanese companies are racing ahead with new nuclear designs, including molten salt reactors, heavy water reactors and fast reactors." 
Energy Secretary Amber Rudd of the ruling Conservatives is struggling to get a pipeline of new power stations to replace the aging coal and nuclear plants that are due to shut down in the next decade. At Hinkley, EDF has yet to make an investment decision. The project was originally planned for completion in 2017 and now isn't likely to be built until at least 2025.
"Britain's power supply is going into the red," Nandy is set to say. "New figures show how for the first time National Grid expects Britain will be forced to rely on backup measures, and importing electricity from abroad, to keep the lights on and avoid power shortages this winter. It will be households and businesses who pay for this Tory failure through higher energy bills."
Rudd has repeatedly said her priority is to keep consumer bills as low as possible, leading to a succession of cuts in the past year to renewable energy subsidies.
Before it's here, it's on the Bloomberg Terminal.
LEARN MORE