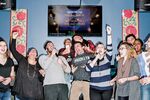 Karaoke is one thing. Karaoke with colleagues? It lets them see that you're not just an office drone—that you're someone who can express yourself in all your true, Cyndi Lauper-loving colors. But you do risk embarrassment serious enough to ask for a transfer to another city afterward. That's why we've put together this guide to how, where, and what to sing with the people you sit next to in the office.
The Ten Commandments of Karaoke With Colleagues
Etch these in stone, put them next to the water cooler, and remind the interns.
It's hard to get totally sober people to start singing. Spring your karaoke idea on co-workers after they've had a couple of drinks at the regular after-work local. They'll be hogging the mic within the hour.
Karaoke may seem like it's about the person whose song is up, but it's really just a big singalong. Get things started right by picking a crowd pleaser like We Built This City by Starship, Freedom! '90 by George Michael, Waterfalls by TLC, or Ignition (Remix) by R. Kelly.
If you're the boss, you can come to karaoke, but you have to leave after the first 30 minutes or if it looks like someone plans to stumble through I Touch Myself by the Divinyls—whichever comes first.
I Touch Myself is a bold move.
Given that office karaoke is, effectively, a team-building exercise (see No. 2), check your esoteric personal favorites at the door. No one wants to hear that deep cut from the Smashing Pumpkins; everyone wants to hear We Don't Have to Take Our Clothes Off by Jermaine Stewart.
Pick songs that speak to every generation, because an office crowd is usually more diverse by age than your group of friends. Young folks, remember, the senior gang may not share your affection for Ciara; old-timers, go easy on the Gordon Lightfoot, OK?
Nervous about belting one out in front of co-workers? Don't worry—certain artists are failproof. You can speak your way through anything by Lou Reed. The Smiths lead singer Morrissey slides from note to note so much, you never actually have to land anywhere.
Before you started your job, were you a trained chanteuse? Were you the star of every high school musical? Keep your Equity card (and the cast album of Cats) to yourself. Just like in the office, it's better to work well with others and not take yourself too seriously.
Keep that corporate card close by. Those pitchers of Sapporo add up faster than you think.
Discretion is the better part of valor on the day after karaoke. No need to relive the previous night when you get to the office. Just meet eyes with your fellow singers and exchange a knowing nod.

Party in the USA
Five karaoke bars where they're playin' your song 
NEW YORK 
Insa
Starting at $60/hour; insabrooklyn.com
Brooklyn's industrial-hip Gowanus neighborhood isn't the first place in the city you'd go to find Korean barbecue and karaoke. But at Insa you can feast on bibimbap and local craft soju, then make your way to a private space—each holds as many as 10 seated guests, and one even handles 22.
SING
50 Ways to Leave Your Lover by Paul Simon
Starman by David Bowie
We Belong by Pat Benatar
Detroit City by Bobby Bare
NEVER SING
Tubthumping by Chumbawamba
List by: Sohui Kim and Ben Schneider, owners
AUSTIN
The Highball
Starting at $35/hour; thehighball.com
The bar's seven rooms are elaborately decorated—motifs include "Joysticks" (a Nintendo-inspired wonderland), the "Fifth Dimension" (outer space), and "Midnight Manor" (a haunted house). Each comes with a "magic voice synthesizer" that will make even your most tone-deaf co-worker sound like a superstar.
SING
Don't Stop Believin' by Journey
Regulate by Warren G. featuring Nate Dogg
Come on Eileen by Dexys Midnight Runners
Bohemian Rhapsody by Queen
NEVER SING
List by: various servers
DENVER
Punch Bowl Social
Starting at $25/hour; punchbowlsocial.com
This chain has outposts in Austin, Cleveland, Detroit, and Portland, Ore., but Denver is home to the original. The menu includes fun-and-fancy dishes like deviled eggs with bacon jam and nachos topped with roasted cauliflower. If you tire of singing—as if, right?—there's also bowling, marbles, and pingpong.
SING
Sweet Caroline by Neil Diamond
Baby Got Back by Sir Mix-A-Lot
Girls Just Want to Have Fun by Cyndi Lauper
Gin and Juice by Snoop Dogg
NEVER SING
My Heart Will Go On by Céline Dion
List by: Jodi Collier, director of marketing
LOS ANGELES
The Line Hotel's Break Room 86
Bottle minimum starts at $350; thelinehotel.com
This '80s-themed bar underneath the popular Koreatown hotel boasts four private rooms, one of which you enter through a tricked-out telephone booth, plus a working Atari and throwback snacks like Bagel Bites and Twinkies. On Tuesdays, there's live-band karaoke featuring '80s hits exclusively.
SING
Ace of Spades by Motörhead
Purple Rain by Prince
Don't You (Forget About Me) by Simple Minds
Kids in America by Kim Wilde
NEVER SING
Bohemian Rhapsody by Queen
List by: Ian Ford, general manager
This bar holds karaoke night only once a month, but it's legendary, thanks to its hostess, DJ Oly. Her events are often themed—David Bowie, for example—and she calls the party "karaoke for music nerds." Ms. Cheezious, which sells Frito Pies, is one of the food trucks parked out front, should you need to refuel between sets.
SING
Me So Horny by 2 Live Crew
Life on Mars? by David Bowie
Trouble by Lindsey Buckingham
Sway by Rosemary Clooney
NEVER SING
What's Up by 4 Non Blondes
List by: DJ Oly
A Case for Rhapsodizing
In the words of one pro: "Go for it"
Marc Martel, who performs as Freddie Mercury in Queen's sanctioned cover band, the Queen Extravaganza, advises getting everyone involved in the middle third—the choral part that begins with "I see a little silhouette" and ends with "for meeeeee." "It's ridiculous to try to sing that by yourself," he says, adding that you shouldn't even try to hit the "for meeeeee" (we think it's a falsetto B flat in the sixth octave) that was originally sung by Queen's drummer, Roger Taylor. "Pick another note if you know anything about harmony."
Next Round
Sapporo isn't the only beer that can give you liquid courage

Brooklyn Sorachi Ace
This one has an herbal aroma similar to its Japanese cousin (Sapporo developed the hops) but 50 percent more alcohol by volume. Keep that in mind if you get to the party late and feel the need to play catch-up.
Koshihikari Echigo
A fellow Japanese import, this craft beer is cleaner and smoother than Sapporo. Bonus: Brewed with rice, it's naturally gluten-free.
Victory Helles Lager
Downingtown, Pa.-based Victory has been making this classic, German-style lager since the late '90s but only released it nationally last year. Crisp and subtly effervescent, it's just as thirst-quenching as Sapporo with none of the metallic aftertaste.
"This is the dawning of the age of … asparagus?"
If you're stuck on a lyric, these apps can help
Shazam, SoundHound
Free
Both apps, which identify songs by "listening" to them through your phone's mic, have extensive databases. Just hit the "lyrics" button after either app has ID'd what's playing, and boom: instant cheat sheet.
Sing! Karaoke
Free, with in-app song purchases
Perfect pitch isn't really the goal; it doesn't matter if you're one or seven octaves off. But Sing! Karaoke offers visual cues to help you get back on key if you stray. You can also record video of your performance and upload it to a karaoke social network.
Karaoke Party
Free, with in-app song purchases
Party at your place: This works with Apple TV, Google Chromecast, or Amazon Fire to turn your TV into a karaoke machine. You sing into your phone—which, c'mon, you do anyway—and the sound comes out of your television's speakers.
The Ultimate Karaoke Playlist
Before it's here, it's on the Bloomberg Terminal.
LEARN MORE