Hispanic Job Gains Accelerate as U.S. Labor Market Strengthens
Rapid improvement in employment fortunes.
by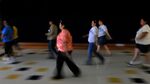 The U.S. labor market has healed substantially since the unemployment rate spiked to double digits following the financial crisis. Still, for many different demographic segments, progress in finding jobs has been slow in coming.
A look under the hood of February's better-than-expected job gains, however, shows this to be changing: The labor market's strength is broadening to include a group that has historically lagged the national average.
The unemployment rate among Hispanics or Latinos has declined by almost a full percentage point so far in 2016, to 5.4 percent, its lowest level since March 2007. This is the best two-month drop since the start of 2011, with February's decline of 0.5 percentage points marking the most rapid one-month improvement since April 2014.
The unemployment rate for Hispanics has been roughly 1.6 times higher than that of whites over the past 20 years. After February's brisk drop, the ratio between the two has reached its lowest level in nine years:

During Janet Yellen's first speech as Fed chair, she cited anecdotes about minority workers who had struggled to find gainful employment after the Great Recession in order to emphasize that not all demographic groups were sharing equally in the economic recovery.
Household employment data released concurrently with the establishment data showed that of the 530,000 net job additions in February, 57 percent were attributable to gains among the Hispanic or Latino (+300,000) communities.
During Yellen's testimony before Congress in February, lawmakers castigated her for failing to adequately advance the fortunes of minorities in the work force.
The tools under the Federal Reserve's control are relatively blunt and ill-equipped for effecting improvements in the unemployment rates of select demographic groups. But the recent headway among Hispanics in the labor market suggests that the tide of monetary stimulus is now lifting more boats.
Before it's here, it's on the Bloomberg Terminal.
LEARN MORE