Goldman, BofA Dismiss Traders After Getting Taste of 2016 Markets
By , , and
Goldman said to plan cutting more than 5% of fixed-income jobs

BofA said to eliminate 150 trading, investment-banking workers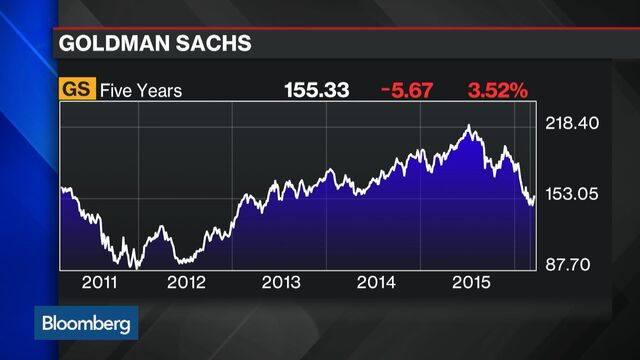 Goldman Sachs Group Inc. and Bank of America Corp., two of Wall Street's biggest investment banks, plan to lean on their periodic culls of low performers this year to rein in costs as a market rout pressures returns.
Goldman Sachs will eliminate more than 5 percent of traders and salespeople in its fixed-income business, cutting those operations more deeply than the annual companywide sweep normally used to make way for new hires, a person briefed on the matter said Thursday. Bank of America will dismiss about 150 trading and investment-banking employees next week as Chief Operating Officer Thomas Montag pushes managers to trim expenses, people familiar with its decision said.

This year's global market turmoil, including the worst start ever for U.S. stocks, is putting new pressure on Wall Street to pare operations as clients pull back and corporations refrain from selling some types of securities. It comes as investment banks already were struggling to overhaul fixed-income units amid stiffer capital rules and a trading slump. Last year was the worst for fixed-income trading since 2008, according to research firm Coalition Development Ltd.
Goldman Sachs typically eliminates the bottom 5 percent of performers around this time of year, but it sometimes exceeds that amount. In January, the firm planned to gauge fixed-income markets for a few months before deciding whether to cut related operations deeper, a person familiar with the deliberations said at the time. While the dismissals now planned will go beyond the companywide norm, they won't reach as high as 10 percent, the person briefed on the decision said Thursday, asking not to be identified discussing personnel matters.
'Remain Committed'
Goldman Sachs Chief Executive Officer Lloyd Blankfein has stood by fixed-income operations to win more customers as rivals retrench and acknowledge that their revenue from the business isn't bouncing back. Still, he told investors last month that the firm has trimmed fixed-income headcount 10 percent since the start of 2012 as it balances a quest for market share with a focus on returns. Meantime, the New York-based company has added more than 3,000 workers since the end of 2011.
"We remain committed to our FICC business, but we're also managing to the cycle," Blankfein said last month, referring to fixed-income, currencies and commodities. "We don't regard this as a structural change. It might be structural aspects to the evolution of the FICC market in terms of some of the rules and the technologies and the platforms that are being used -- but I don't think it's going out of business."
As Goldman Sachs evaluated markets, some rivals signaled further slowdowns. The head of JPMorgan Chase & Co.'s investment bank, Daniel Pinto, said Feb. 23 that revenue from equity and fixed-income sales and trading has tumbled about 20 percent this year. Goldman Sachs hasn't provided similar guidance.
BofA's Plan
At Bank of America, Montag has been pushing deputies for months to lower expenses across the trading and investment banking operations that he oversees. While people with knowledge of the initiative said in January that managers were being given latitude on how to shrink budgets, they predicted job cuts would probably follow this month.
The bank plans to notify affected workers March 8, the people with knowledge of its decision said. In September, the company cut 200 jobs in trading and investment-banking units in a bid to trim expenses, a person familiar with that decision said at the time.
Shares of the lender are down 20 percent this year, making it the worst-performing bank in the Standard & Poor's 500 Financials Index. Goldman Sachs has slid 14 percent.
Other U.S. banks also have been eliminating Wall Street jobs. When Morgan Stanley cut about 1,200 employees in the fourth quarter, it included about 25 percent of its fixed-income trading staff.