Economist: For The ECB, It's No Longer About Oil
Second-round effects need to be addressed to avoid outright deflation.
by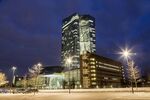 Inflation in the euro area came in at 0.2 percent in February, piling further pressure on policymakers at the European Central Bank ahead of next week's monetary policy meeting. 
While the largest component of the price fall in the common currency zone remains energy, the ECB is becoming increasingly concerned about second round effects and the prospect of the oil-price collapse pushing the euro area into deflation.
This is a theme taken up by Frederik Ducrozet, senior economist at Pictet Wealth Management in a note sent to clients on Thursday, in which he outlines the two problems the ECB needs to tackle at its March meeting.
Preserving the credit channel

While things have been improving over the past couple of years for bank lending in the euro area, Ducrozet warns that the ECB should "should take the threat of a potential impairment of the credit transmission channel very seriously" in any new policy measures—such as negative interest rates—announces to tackle inflation. If the external environment remains challenging, then the ECB should be wary of doing anything that puts further pressure on the banking sector.
Addressing inflation dynamics

Ducrozet points says that the most worrying trend in the February inflation numbers is not the oil-driven headline decrease, but rather the unexpected fall in core inflation to 0.7 percent. With survey data suggesting deflationary dynamics have intensified and recent PMIs showing euro-area factories cut prices at the fastest pace in almost three years, he warns that while the risks of a deflationary spiral are low, "this is a risk the ECB cannot ignore in the current context."
Overall, Ducrozet does not expect the worst-case scenario to materialize, but he does expect the ECB to act preemptively. He predicts the central bank will announce a further rate cut of 10 basis points, bringing the deposit rate to minus 0.4 percent and an increase in asset purchases of €20 billion per month to bring the pace to €80 billion per month. Enough to boost inflation, without harming banks' profitability.
The ECB is set to announce its latest policy measures on Thursday, March 10.
Before it's here, it's on the Bloomberg Terminal.
LEARN MORE