China Said to Intervene in Stocks Ahead of Annual Policy Meeting
Bloomberg News
Large-cap banks lead gains on Friday as small caps sink

Nation's leaders are gathering in Beijing for NPC meeting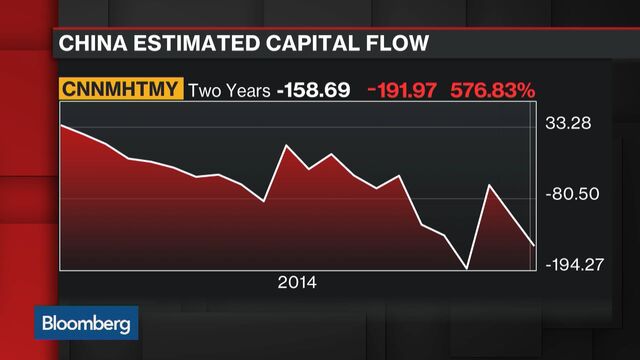 China intervened to support its stock market on Friday, helping the benchmark index cap its best weekly gain of 2016 before policy makers meet to approve a five-year road map for the economy, according to two people with direct knowledge of the situation.
State-backed funds bought primarily bank shares, while some local branches of the securities regulator asked listed companies, mutual funds and brokerages to stabilize the market during the National People's Congress and the Chinese People's Political Consultative Conference, said the people, who asked not to be named because the matter isn't public.

China's biggest banks, seen as prime targets for state support because of their large weightings in benchmark indexes, paced gains in the $5.5 trillion market on Friday even as small-capitalization shares tumbled. Authorities have been known to intervene in markets before key national events, with government funds stepping in to boost share prices last August before a military parade celebrating the 70th anniversary of the World War II victory over Japan.
"It looks like the national team has been buying as large caps of the Shanghai index jumped, while small caps fell," said Steve Wang, chief China economist at Reorient Financial Markets Ltd. in Hong Kong.
China's stock market has become one of the most visible symbols of anxiety toward Asia's largest economy after a $5 trillion crash last summer rattled global investors. By publicly intervening to support equity prices in 2015, President Xi Jinping's government has staked some of its credibility as a steward of the economy on the state's ability to stabilize one of the world's most volatile markets.
Weekly Jump
The Shanghai Composite Index rose 0.5 percent on Friday, reversing an earlier decline of 1.8 percent and extending this week's gain to 3.9 percent. The large-cap CSI 300 Index advanced 1.2 percent, while the ChiNext gauge of smaller companies tumbled 5 percent.
The China Securities Regulatory Commission didn't immediately reply to a faxed request for comment.
A gauge of financial stocks climbed the most among 10 industry groups. Industrial & Commercial Bank of China Ltd., the most valuable company listed on mainland exchanges, jumped 4.4 percent in its biggest gain in four months. Agricultural Bank of China Ltd., which has the third-largest weighting on the Shanghai gauge, surged 3.9 percent. Bank of China Ltd. rallied the most in three months.
Growth Target
Other large-cap shares also advanced. PetroChina Co., the nation's biggest energy company, rallied 3.2 percent to cap its biggest weekly gain since July. Only 3 of the ChiNext's 100 members rose, as the index of mostly technology companies traded in Shenzhen sank toward its lowest level since September.
"Ahead of the national meetings, they probably wanted to create some image of stability on the stock market," said Ronald Wan, chief executive at Partners Capital International in Hong Kong. "The divergence between the main board and smaller exchanges underscores that there's still quite significant selling pressure."
The Shanghai Composite is still down 19 percent this year, the world's worst performance among global peers. The gauge tumbled as much as 4.6 percent on Monday on disappointment over a lack of new stimulus during the Group of 20 weekend meetings in Shanghai. That evening, the central bank announced it would cut the amount of cash lenders must hold in reserve. While the stock gauge ended higher the following day, all the gains came in the last 90 minutes of trading, a pattern reminiscent of state support.
Surging Debt
The National People's Congress will set an annual growth target for this year -- flagged at 6.5 to 7 percent by the National Development and Reform Commission. Investors are looking for details on how loss-making state enterprises can be shuttered without triggering a slump and how the government will rein in debt that's risen to 247 percent of gross domestic product.
China may be trying to boost investor sentiment after Moody's Investors Service lowered China's credit-rating outlook to negative from stable on Wednesday, according to Wang. The ratings company highlighted the nation's surging debt burden and questioned the government's ability to enact reforms.
"One-day movements in the stock market shouldn't be their concern," Fraser Howie, the co-author of "Red Capitalism: The Fragile Financial Foundation of China's Extraordinary Rise," said in Singapore. "Messing around is fairly futile and it doesn't do anything for the economy."
— With assistance by Steven Yang
Before it's here, it's on the Bloomberg Terminal.
LEARN MORE