Brazilian Stocks, Real Rally as Traders Root for Impeachment
by , , and
Lula detained during Brazil police raid into graft scandal

Bradesco, Itau, Petrobras contribute most to Ibovespa's gain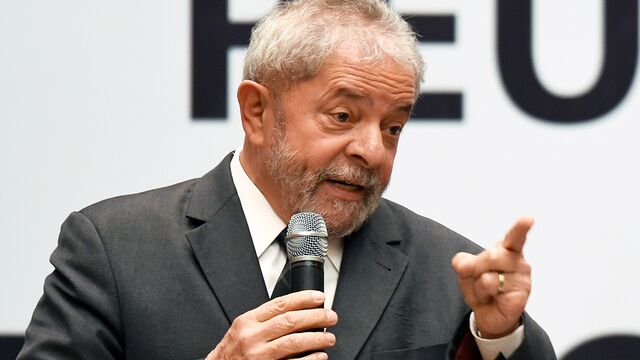 Brazil's stocks led world gains and the real rallied as traders bet that a change in government may be closer than ever after months of political gridlock that has prevented lawmakers from focusing on kick-starting the stalled economy and closing a crippling budget gap.

The rally was triggered by news that former President Luiz Inacio Lula da Silva was detained for three hours after heavily armed police raided his home in a sweeping corruption probe, fueling speculation that support will grow to impeach his successor, President Dilma Rousseff. While markets have been split in the past about whether a Rousseff ouster would be good or bad, many now say it may be the only way out of the political quagmire.
"It looks like investors understand that Brazil is cleaning up it's issues and will be in better shape in the future," said Patrik Kauffmann, a money manager at Solitaire Aquila Ltd., which oversees $11 billion in Zurich. "Furthermore, investors are starting to realize this is positive for the country and business climate and that we probably see a strong rally in Brazilian assets."
The Ibovespa climbed 4 percent to 49,084.87 at the close of trading in Sao Paulo, led by lenders Banco Bradesco SA and Itau Unibanco Holding SA. State-controlled oil producer Petroleo Brasileiro SA extended a five-day rally to 48 percent. Trading volume at the Sao Paulo exchange was 17.6 billion reais ($4.7 billion), data compiled by Bloomberg show. That's almost three times the daily average this year, according to data from the exchange. The real rose 1.2 percent to 3.7529 per dollar, the highest since Dec. 9.
The rally has pushed the benchmark stock gauge's 14-day relative strength index to 78, the highest since February 2012, according to data compiled by Bloomberg. Some technical analysts see an RSI of 70 as a signal that a security has risen a lot and could be poised for a decline.
Lula's detention happened a week after a poll showed Rousseff's approval rating recovered from record lows as Brazilians reduced support for her impeachment, a process that could take months and involve several votes in Congress. That's why some market watchers warned the rally could be short-lived as the process to impeach the president drags on, potentially plunging Brazil deeper into chaos.
"The market is reacting like Brazil woke up today as a whole new country, but a corruption investigation is hard, long and full of surprises," said Adeodato Volpi Netto, head of capital markets at Eleven Financial Research. "There's room for profit taking on stocks as short-term investors play to make money, not to discuss politics."

The Ibovespa entered a bull market Thursday and the real surged as a news report that a senator alleged wrongdoing by the ruling party also added to optimism that Rousseff's ouster was gaining momentum, which could put an end to 13 years of Workers' Party rule. On Friday, live images broadcast on national news channels showed federal police deployed at the home of Lula on the outskirts of Sao Paulo.
The Lula Institute's spokesman, Jose Chrispiniano, declined to comment. Rousseff, Lula and their Workers' Party have repeatedly denied any allegations of wrongdoing.
"The market has been held hostage by corruption and incompetence," said James Gulbrandsen, the chief investment officer for Latin America at NCH Capital, which oversees $3.2 billion in asset, said from Rio de Janeiro. "The rally in Brazil is merely a glimpse of the gains that are possible with a reversal in the overwhelming incompetence that has dominated Brazil over the last decade."
Traders have pushed down the value of Brazilian assets over the past year as Rousseff failed to prevent further credit downgrades after Standard & Poor's cut the nation to junk in September, in a move followed by Fitch Ratings and Moody's Investors Service. The least popular president in Brazil's modern history has faced political resistance to the approval of the fiscal adjustments needed to close a budget gap amid the widening corruption scandal.
While the scenario in Brazil still has a great deal of uncertainty, the probability of Rousseff leaving presidency has risen to 70 percent from 50 percent, according to Bianca Taylor, a sovereign analyst and strategist at Loomis Sayles & Co. in Boston.
"I believe it's a matter of months for Dilma to leave the government, maybe even weeks," said Taylor, whose firm has $229.1 billion in assets including Brazilian bonds. "The events of today are very significant and bring hope for change in Brazil."
Before it's here, it's on the Bloomberg Terminal.
LEARN MORE