Yuan Stability Seen as Key Party Line as China Leaders Meet
Bloomberg News
Premier Li to temper depreciation pressure: Merchants Bank

Clarity, credibility, consistency key to drawing inflows: BBVA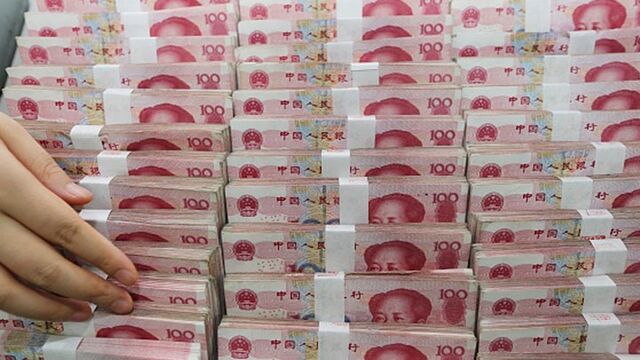 China's leaders are expected to use their biggest annual policy gathering to temper depreciation expectations for the yuan while shying away from specifics on foreign-exchange reforms.
Premier Li Keqiang will probably use his platform at the National People's Congress to drive home the point that the government will promote stability against a newly-unveiled basket of major currencies, according to China Merchants Bank. Leaders will probably refrain from announcing any detailed changes to the country's yuan policy this year to avoid spurring further volatility, said Oversea-Chinese Banking Corp.
Here's a look at what strategists are expecting, and a few things they're wishing for:
Hot Topics
Foreign-exchange policy changes and the opening of China's capital account will be among the key subjects investors will be watching out for at the NPC, according to Bank of Communications Co.
"NPC delegates will make suggestions that'll guide policies and reforms affecting all aspects of China's economy," said Lian Ping, chief economist at Bank of Communications Co. in Shanghai. "The hot topics will include how the nation should push forward with reforming the foreign-exchange system and how it should internationalize the yuan as capital flows out."

The nation's defense of the yuan depleted its foreign reserves by $513 billion last year in the first annual drop since 1992, while Bloomberg Intelligence estimates that a record $1 trillion of money fled overseas in 2015. The turmoil was ignited by a yuan devaluation in August, following which the central bank said it is shifting to a more market-driven mechanism to set the currency's daily reference rate.
"There is a reduced likelihood of foreign-exchange reforms," said Tommy Xie, a Singapore-based economist at OCBC. "This will help ease depreciation pressure on the yuan because uncertainties will be fewer."
Changing Priorities
The nation will likely try and direct investor attention to the currency's exchange rate against the currency basket, and not just the greenback, by getting Premier Li to talk on the issue, said Frank Zhang, Shanghai-based head of foreign-exchange trading at China Merchants Bank.
"This is a vital step as China learns to manage market expectations, and it will help soothe sentiment when the yuan weakens against the dollar," Zhang said. "Officials don't want to see panic-selling whenever the yuan drops versus the greenback, which is likely to happen if the Federal Reserve raises interest rates again. Some people have understood the strategy, but the government needs to do more."
The yuan rose the most in almost three weeks on Friday, as investors expect top officials to stress the importance of financial stability during the NPC, according to DBS Hong Kong Ltd. The currency will remain stable, People's Bank of China Deputy Governor Yi Gang said in Beijing on Friday.
A replica of the CFETS RMB Index, which was released in December and measures the yuan against 13 currencies, has been trading within a range of 99 and 101 in the past eight weeks. The onshore exchange rate has weakened 0.7 percent this year.
Clarity Call
While officials have often stressed that they will keep the yuan steady against the basket, there is little clarity on what it considers to be stable.
"Does that mean the index should fluctuate between 97 and 103, or within some other range?" said Li Liuyang, Shanghai-based senior manager and chief financial market analyst at Bank of Tokyo-Mitsubishi UFJ (China) Ltd. "I hope the authorities can elaborate."
Strategists are also looking for more transparency on how the central bank sets the yuan's daily reference rate, which restricts onshore moves to 2 percent on either side. While the People's Bank of China announced in August that it is making the mechanism more market-driven, ING Groep NV last month said the system was as "black-box as ever."
"The fixing rate remains unpredictable and opaque even after August's changes," said Koon How Heng, a senior foreign-exchange strategist at Credit Suisse AG's private banking and wealth management unit in Singapore. "But it is unlikely that we will get any clarity."
Foreign Funds
Delegates may explore how China could convince more foreigners to invest in the onshore bonds, stocks and currency markets, said BTMU's Li. Policy makers won't likely lift curbs on capital outflows in the near term as sentiment toward the yuan hasn't fully recovered, he added.
The PBOC said last month that most types of overseas financial institutions will no longer require approvals or quotas to invest in the 35 trillion yuan ($5.3 trillion) interbank bond market. Commercial lenders, insurance companies, securities firms and asset managers were included on a list of those eligible and the authority said it also hopes to attract long-term investors such as pension funds and charities.
"I think they will talk about reaching capital account convertibility in 2020," said Ken Cheung, a currency strategist at Mizuho Bank Ltd. in Hong Kong. "However, the recent currency market rout highlighted the risk of capital account liberalization and may have even slowed the liberalization process."
The discussions could pave the way for further opening measures such as starting a link between the stock markets in Shenzhen and Hong Kong, allowing more overseas commercial lenders to buy bonds in China's domestic market, and allowing 24-hour trading for the onshore yuan, Li said. This comes as the yuan prepares to enter the International Monetary Fund's reserves basket in October.
"Clear direction, credibility and consistency are the key to attracting foreign inflows," said Xia Le, a Hong Kong-based economist at Banco Bilbao Vizcaya Argentaria SA. "As long as policymakers' credibility improves, we see gradual inflows from global reserve managers through the bonds purchasing."
— With assistance by Tian Chen
Before it's here, it's on the Bloomberg Terminal.
LEARN MORE