Despite a Populist Victory, Venezuela Is Still 'at the Doorstep of the Abyss'
By
Opposition working on way to oust president before end of term

Maduro takes steps to keep military and poor from revolting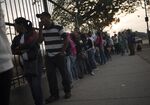 As Governor Henri Falcon takes his morning jog through Barquisimeto, the hub of Venezuela's farming heartland, he crosses a bleak landscape. It's not yet dawn and hundreds of perspiring shoppers are lining up for food, neighborhoods are dark from rolling blackouts and hospitals so crowded that the sick share beds.
Falcon is a rarity in a deeply polarized country: a lawyer and former military man who broke ranks with the late Hugo Chavez, yet remains in power as a figure of the opposition. So three months after an overwhelming opposition victory in congress that promised big changes in this socialist nation, Falcon's reading of the situation is worth hearing.
As he runs, nodding to constituents, he points to the lines, the outages, the overcrowding and the crime. He mentions the slumping oil prices and the opposition's victory. And in between strides, he says not to expect anything to change soon; the suffering will get worse because the government of President Nicolas Maduro is not going to take any challenge to its rule lying down.

"We're at the doorstep of the abyss, a catastrophe in the country," he said. "But we're not facing a crippled adversary. It would be naive to think so."
Populist Welfare
With firm control over the oil industry -- the country's only cash cow -- Maduro has maintained key elements of populist welfare programs and taken care of the military so it is unlikely to dislodge him. Opposition leaders, for all their promises of a new day, are sending mixed signals about how quickly they will move, insisting that the government that got the country into this mess be forced to own it.
"Politically, the country is frozen," said Carlos Romero, a political scientist at the Central University of Venezuela. "Economically, the government doesn't want to assume the costs of adjustments, yet neither does the opposition."
Faced with billions of dollars in debts due this year, Maduro delivered long-awaited economic adjustments last month. He rejigged currency controls, hiked the price of gasoline more than 60-fold (it still cost pennies to fill up a tank) and leased large swaths of the country's rich oil and mineral deposits to foreign investors. Still, after years of mismanagement and more than a 70-percent drop in the price of oil, many remain skeptical that Maduro's latest measures will do much besides extend his government's life temporarily.
"It gives the government breathing room to avoid a default, but it's not enough to avoid the economic crisis," said Venezuelan economist Alejandro Grisanti, formerly at Barclays Capital.
The International Monetary Fund expects inflation -- already in the triple-digits -- to soar to over 700 percent and the economy to shrink for the third straight year. In other words, Venezuelans will get even poorer.
Deck of the Titanic
So as the suffering in places like Barquisimeto intensifies, the political response in Caracas feels disconnected, like a polite debate on the deck of the Titanic. Maduro has barely acknowledged his electoral defeat in December, ceding little ground to the opposition. He's sidestepped congress' decisions through the courts and vowed to block its central initiatives, such as giving deeds to public housing residents and granting amnesty to dozens of jailed politicians and activists.
With their legislation stymied and their new majority largely ignored, the opposition is slowly coalescing around the goal of unseating Maduro through constitutional means before his term ends in 2019. A slew of initiatives is now being proposed. Options include amending the constitution, rewriting it entirely and calling a referendum. But many suspect this process will not move quickly.
"Venezuelans' hope for an immediate change in government is, in practice, an illusion," said Jose Vicente Haro, a constitutional law expert in Caracas.
Barring a resignation by Maduro, some believe a break in Venezuela's political stalemate will only occur after greater deterioration.
Dialogue?
"Any other option only becomes available when we're in a situation that is far worse than what we are in now," says Margarita Lopez Maya, a historian at the Central University of Venezuela.
Governor Falcon, who has participated in unsuccessful meetings among government, opposition and business leaders, says he still believes in dialogue. "There is no other path; the other is confrontation, anarchy."
Temir Porras, who was a top aide to Maduro till 2013, said the government finds itself with few answers. "The problem of Chavismo is ideological: How do I face a situation like this without employing socially regressive policies?" he said in an interview. "And they have been paralyzed."
Ordinary Venezuelans sense that warring politicians are finding little common ground. Standing behind throngs of shoppers waiting to buy groceries, Beatriz Perez, a 26-year-old homemaker in Barquisimeto, shook her head in disbelief at the suggestion of an accord, but wasn't giving up yet.
"Hope," she said, "Is the last thing to die."